Benin city has plenty royalty, but no chill at all!
Spending two nights in Ondo State and then coming to Benin is a major zero to hundred scenario.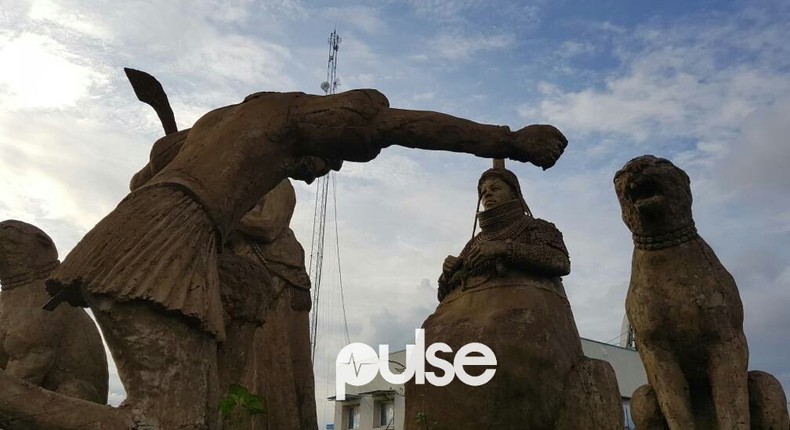 Spending two nights in Ondo State and then coming to Benin is a major zero to hundred scenario.
I've travelled to many places in the past but there are few that are as chilled as Ondo State. The bikes are cheap. The people are chilled. We made a vehicle with passengers stop to take photos and nobody seemed to be swearing for our fathers. By 10pm, if you haven't gotten something you needed, forget it. The town of Ondo would have gone to bed.
BUT WHEN WE GOT TO BENIN.
We took a bus from Ore, at a restaurant where we made friends with the head of security, Edwin. And off we went to Benin. Living in Ondo for two days, where  nobody seemed to be in a hurry. Where everyone seemed to be chilled, smiling all the time, and then moving to the noisy, uptight Benin City was a major culture shock.
5 minutes in, we were standing at the bus stop, Chris and I, when this police van blocked us. There were about 8 policeman. All armed with rifles. Except the driver who was armed with the steering wheel, of course.
"How many guns dey your bag?" was the first thing one of them said.
Travel Lesson 7: Never fight or argue with the police. They have all the time in the world. You don't.
"Haba sir," I laughed. "We're travellers who work in the media." We explained ourselves and showed some ID. And we were good to go. They wished us luck too.
We were meeting up with someone, Daniel. He is going to be our host in this city, but first we had to get some food. It was late in the afternoon, and we hadn't had anything to eat.
The most important thing the road has taught me is that for the first time in as long as I can remember, I can genuinely say 24 hours just doesn't seem to be enough.
While waiting for Daniel, we found this place. Just opposite Edo House. The name of the restaurant was "Food Is Ready."
That was all the creativity we needed to be honest.
First thing you need to know about Fufu in Benin is that it is called Santana. The Lord knows why, we don't. Yet.
By the time we were done, Daniel was already with us.
Daniel is a farmer whose life is centred around his poultry. Everything else comes second. In just a few minutes, you can already feel his drive and goodness.
He told us how hard it is to be young and male in Benin City.
If policemen see you carrying a laptop or driving a car, you're a Yahoo Boy. If they see you carrying any funny looking bags, then it has to be guns.
We were dressed in black shirts, with blue jeans, carrying a long tripod bag that probably looked like a sniper rifle, and we were carrying huge backpacks.
Clearly, we ticked all the wrong boxes.
First, Daniel took us to go deliver eggs to his customers.
The thing about being a poultry farmer is that half the time, you really can't meet up with demand.
He delivered about a 100 crates of egg, but the wholesaler kept begging for more. Begging in every language.
Heading back out, we planned a quick stop at Ring Road and boy oh boy, that stop wasn't as quick as we thought it'd be.
The first thing you learn at Ring Road is how Benin people love their kings.
There's something about adorning your city square with sculptures of your kings, but in Benin, it's like a daily reminder of how powerful they truly are.
Ring Road has everything. It has a National Museum. It has countless statues of past kings at every turn. And a female royalty that looks like a queen. There was also a Mosque.
An interesting looking Hall. And then there's the Oba's Palace.
Travel Lesson 8: Learn about the culture, and respect it. Don't be stupid. I almost entered the Oba's Palace looking like this;
We also saw a statue of school pupils that looked so tired from getting a Nigerian education.
All of these photos were taken at around last six in the evening. Night was fast approaching and we had to get going. Myself and Chris know for sure that we'll be back here tomorrow.
*All photos were shot on the Samsung Galaxy S8+.
JOIN OUR PULSE COMMUNITY!
Recommended articles
5 things to consider before matchmaking your friends with each other
Here are the reasons why you should reduce your bread consumption
4 things to expect when you date a broke guy
Why do single women find married men attractive for relationships?
If you suffer from ulcers, here's the life-saving painkiller information you need to know
G-strings: Here are 3 surprising risks of wearing them regularly
5 ways to deal with mental health problems caused by poverty and unemployment
5 things you need to know about Monkeypox
MIXTA FLEX – Home ownership through Mortgage