Igbo-Ora: Why does the twin capital of the world have so many twins?
Do you know that the town with the highest births of twins is here in Nigeria? Here's why.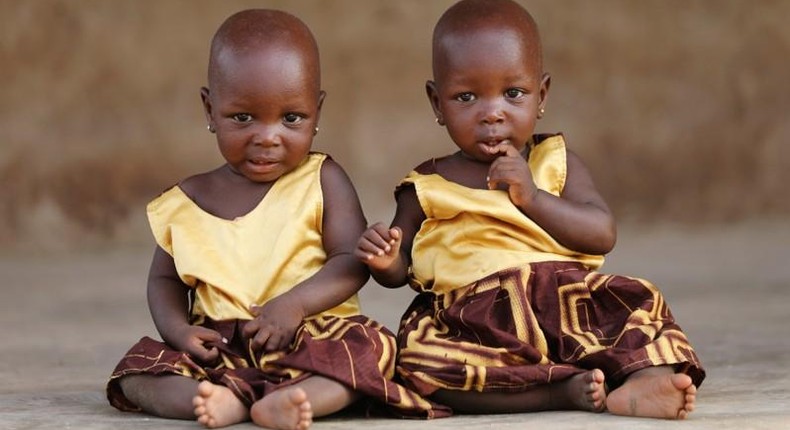 To be able to boast about 158 sets of twins for every 1,000 live births is not a small feat.
Igbo-Ora is one of the most extraordinary discoveries in Nigeria. While Europe boasts of about 16 twins for every 1,000 births and the United States about 33 for every 1,000 births, statistics from a study by British gynaecologist, Patrick Nylander, between 1972 and 1982, recorded an average of 45 to 50 sets of twins per 1000 live births in the southwest.
The town, a small 80 kilometers from Lagos, is a sleepy town in Oyo state with a simple way of life, made up of mostly farmers and traders. It is considered the Twin capital of the world, and has the stone plinth that boasts of it.
Because more twins are born in Igbo-Ora than anywhere else in the world, walking through the town might make you feel like you are seeing double. Almost every house has at least one set of twins.
The source of the double blessing
The production and birth of two children from the same pregnancy is still relatively uncommon. Because one cannot predict if a woman should expect twins, it is also considered special phenomenon. However, Igbo-Ora makes one think that there might be a secret to getting twins after all.
The high number of twin births has also been observed in Kodinji, India and Candido Godoi, Brasil. While there are speculations that the births might be due to genetics, research has suggested that the multiple births could be related to the eating habits of the women in the region.
Cassava is quite popular in the Yoruba diet as it can be eaten in many forms such as Amala, Garri, Fufu, etc. This is in addition to the many stews peculiar to the Yoruba people.Research carried out at the University of Lagos Teaching Hospital investigating the multiple twin births points to a high level of a chemical found in the peelings of a particular cassava and yam tubers.
This was also found in the women.According to a 2001 BBC interview, a consultant gynaecologist who had seen many of the multiple births at the hospital says:"These substances are usually linked to the release of more than one egg, which usually leads to twin pregnancies. That means that there is possibly an environmental factor that encourages the high level of this chemical substance.
Numerous works has shown that the tuber food of the Yoruba women, especially the peelings, contains a very large amount of these chemical substances. These women have a disproportionately large amount of these chemicals in their system and this encourages the release of more than one egg. There is enough reason to believe in this theory."However, the leader of the Igbo-Ora community has linked the births to the soup they eat with these tubers saying:
"We eat a lot of the okra leaf or Ilasa soup. We also eat a lot of yam and these diets influence multiple births."
In an interview with Battabox, when asked what could be the reason for her birth of twins, one of the mothers in the community says, "It is the work of God... and the food that I eat, like Amala with Ilasa soup."Though no scientific explanation or evidence can prove that yam consumption can cause multiple births, could Ilesa soup be the reason for the high rate of twins in Igbo-Ora? Stay tuned for the recipe.
JOIN OUR PULSE COMMUNITY!
Recommended articles
Aquafina inspires and empowers Wisdom Nsima as a true 'Padi of Life'
5 major highlights from AAAN @50 AGM/Anniversary celebrations
11 things to do when travelling to another country
JOKA.NG takes attendees on an out-of-space journey with 'Games and Genres'
3 easy ways you can increase your daily protein intake
Top 5 Ebuka Obi-Uchendu's outfits during the BBNaija All Stars season
Unleashing the Maverick Spirit: Glenfiddich celebrates bold futures & Nigerian dream
How Nigerians dressed during the 1960 independence, according to Chat GPT
Nigerian excellence through the lens of Anny Robert in collaboration with Johnnie Walker
Here's why guinea fowls make great security guards
5 cute animals that are actually dangerous
This week's best celebrity pictures on Instagram
Ronaldo did not chase me out of Al Nassr — Vincent Aboubakar
Bukayo Saka: Arsenal star celebrates Nigerian Independence Day
Osimhen can succeed Messi, Ronaldo — Jose Peseiro
Super Falcons: Alozie, Plumptre lead Nigeria's 63rd Independence Day celebrations
Napoli social media executive resigns amidst Osimhen TikTok saga
I still love guys - Super Falcons' Michelle Alozie reacts to lesbian rumour
Heartbreak for Nigeria as AFCON 2027 bid slips away to East African rivals
Victor Boniface or Harry Kane: Who has had the better Bundesliga start?
Steph Curry: NBA star lists Nigeria's Burna Boy and WizKid among favorite music artists