Why settle for regular sandwich when you can have one of these
Rather than take the regular omelette sandwich, consider yogurt sandwich, chicken sandwich or any of these.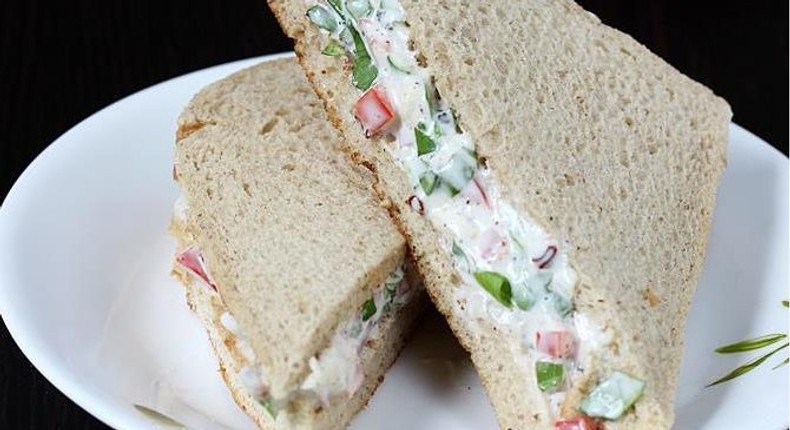 A sandwich is basically a slice of two of bread with nice and tasting fillings to go.
Sandwiches are quite easy to make and can be modified with just any ingredient of one's choice. Asides from the conventional egg sandwich, beans sandwich, beef sandwich, noodles sandwich even chicken sandwich are a few other sandwiches to give your meal the adventure you desire.
Here are a few sandwich recipes you should consider preparing the next time you want a sandwich.
This sandwich can be prepared by mixing yoghurt, veggies, chilli flakes and chopped coriander leaves in a wide bowl. Then spread on the bread slices.
2. Tomato cucumber sandwich
From the name of this sandwich, one can infer that it's basically a combination of tomatoes, cucumber, pepper powder and scoops of mayonnaise spread a slice or two of bread.
3. Vegetable grilled sandwich
This sandwich requires boiled potatoes, tomatoes, bell pepper, onion, cucumber and butter and other veggies of choice (blended together) and spread over slices of bread.
4. Avocado corn salad sandwich
With 1 ripe avocado, sweet corn, tomato, onion, diced carrot, pepper powder, lemon juice, butter and of slices of bread, you can achieve this delicious sandwich.
5. Tomato cheese sandwich
Tomato, cheese, onion, chilli flakes, powdered pepper and butter all spread of slices of bread, Tomato cheese sandwich is all done.
JOIN OUR PULSE COMMUNITY!
Recommended articles
Where Next: Glenfiddich introduces M.I The Guy, Nancy Isime & Mr Eazi
This week's best celebrity pictures on Instagram
Experience VIP activities by Veuve Clicquot at the 2023 NPA Lagos International Polo Tournament
Nigerian Culture: Baby upper teeth first myths you should know
Style Alert: Many celebs are rocking the rich aunty aesthetic
Here are ways to naturally enlarge the male organ
Most common HIV symptoms in men
6 things you need to know about sugar daddy relationships
Here are 4 types of single ladies that men avoid