Japa: 5 Nigerian men share their struggle to find a good barber abroad
The relationship between a man and his barber rivals and even sometimes supersedes the loyalty to their wives or girlfriends.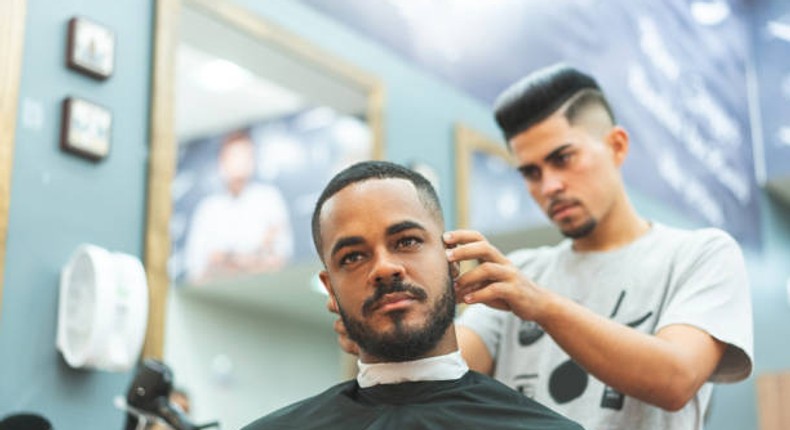 With the rise in Nigerians migrating to other countries, one often neglected challenge is getting the best barber.
Once a Nigerian man finds a barber who cuts his hair properly, he often sticks to this person for life. Whenever he cuts his hair somewhere else and comes back to his usual barber, the sense of guilt is akin to cheating and infidelity.
The barbershop is also a haven for most men, a tent for unbridled masculine energy, with music blaring in the background and discussions and opinions ranging from politics to sports, having the right barber and the right barbershop is important.
These men discuss their challenges with getting a new barber overseas.
Nonso, who lives in Sweden, said:
"Most African men here cut their hair themselves or their partners cut their hair for them. I think there are just about five Afro-barbers in this city. I am used to most barbers messing up my hair because my hair grows fast, and I'm not going bald, so I don't mind. The issue is trying to get an affordable barber.
"The first one I found charged me about $50 for a haircut and $150 for twisting my hair. I did this twice before I got introduced to an affordable person. Now I cut my hair for $30 and lock it for $30."
Tolu lives in the United Kingdom spoke about his struggles with getting a good barber.
"I came to the UK during COVID, and for months, I didn't cut my hair. I'm so particular about my hair because I need my barber to understand my head shape and the style I want."
"The first white barber who cut my hair destroyed my hairline. The issue here is there are so many white barbers and so many of them don't know how to deal with African men. They use scissors to cut white men's hair because it's soft, our African hair is way different."
Pulse Nigeria
"I had to ask around for a good barber and I found one. He stays about one hour, 30 minutes away and comes with a hefty price tag as well, but I don't mind, he's so good at cutting hair, perhaps because is Half Jamaica and Half Nigerian. I always see black celebrities in his shop, I even saw pro-boxer, Anthony Joshua there one day."
"One time, I had trouble booking an appointment with my usual barber, so I decided to browse the internet for black barbershops. I stumbled upon a Pakistani barber in Peckham who specializes in cutting African hair. I was pleasantly surprised by the quality of his work."
Richard in Italy now cuts his hair himself.
"When I moved here, the barbers were cutting rubbish and charging about 5k per haircut, so I decided to do it myself. I know how to cut my hair myself because my dad bought clippers and kept them at home when I was younger, so I began to play with them. I use two mirrors and a camera for the back when cutting my hair myself."
"I became more skilled in cutting my own hair because I was tired of wasting money on substandard haircuts. Besides, my hair grows bushy within two weeks, making me spend around 10k every month on unsatisfactory haircuts."
Joshua, who lives in the United Kingdom, said.
"I saw somebody's hair in my first week here and he went to a white guy, it was terrible, so I knew I had to take my time. It took me three months to get a good barber. I had to be checking my guy's head when they went to get a haircut because my barber had to be black or Nigerian."
Roland lives in Australia and said it wasn't so difficult for him.
"There are black populated areas, so it's not that difficult, just go to where a lot of black people stay."
JOIN OUR PULSE COMMUNITY!
Recommended articles
3 reasons you need to start wearing lingerie
9 foods that make your child smart
3 overnight tricks to flatten your bloated stomach
Who wore it better? Nengi Hampson's recreation, or the original outfit on Didi Stone?
Top 5 Nigerian chefs with the best Instagram content
itel celebrates Children's Day 2023 with over 1,000 children In Abuja
What kind of parents are millennials? 5 ways they differ from their own parents
This week's best celebrity pictures on Instagram
Orijin launches 'Deeply Rooted' campaign championing transformative power of Naija roots
5 things adults miss about Children's Day
5 African countries where snow falls
Amstel Malta shines spotlight on digital content creators at AMVCA 9