'I killed my family members for fear they would report me to the police' Adamu Mai-Bisco
The 28-year-old man who murdered his parents and sisters says he feared they would report his drug addiction to the police.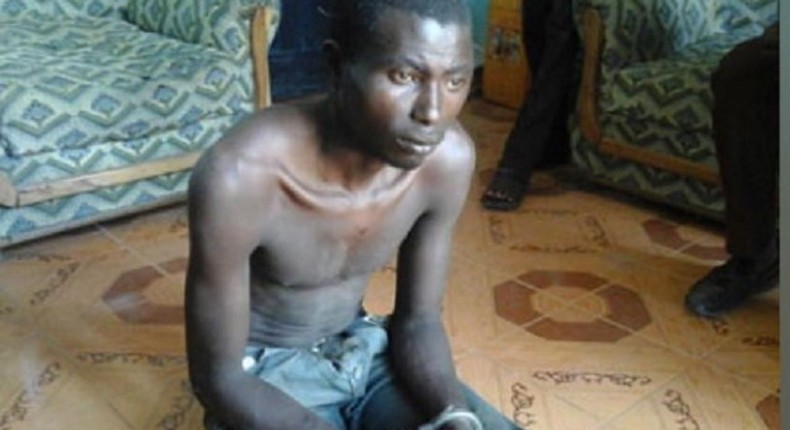 The 28-year-old who was arrested in Potiskum, the Yobe State capital for allegedly
Now sober while in detentiootn, Adamu told reporters from Daily Trust who went to interview him, that his parents had always hated him due to his addiction and had threatened to hand him over to the authorities several times, which made him decide to do away with them.
"I didn't have much problem with my parents but they hated me. I became worried that one day they would drag me before the police or some other law enforcement agency, that is why I acted this way. I pray that nobody should try this kind of atrocity I committed," he lamented.
Also speaking on the incident, his elder brother, Hussain Magaji, said Adamu had allowed the family to sleep before sneaking into their rooms with a shovel and knife where he slaughtered them one after the other, beginning with the father, the mother and the younger sisters.
"He entered our father's room and hit him repeatedly with the shovel, and then slit his throat with the knife. He hit our mother who went in to save our father and knifed her after she became unconscious.
Our younger sisters who slept in a separate room woke up and shouted for help but could not get any until after he killed them, because neighbours thought they were being punished for misbehaviour.
These people he killed were my parents and my sisters and he is my younger brother. Earlier that day, I had discussed with my mother on some key family issues and when I came out of the house, I saw him looking very worried and I then counselled him about life.
Little did I know he was planning such an evil act. I know him to be a serious drug addict and I am sure he did this under the influence of drugs. When I came in and saw all four of my family members lying dead, it was hard to take."
However, a police source at the station where Adamu is being detained said he tried to commit suicide by banging his head on the walls of the cell several times.
"He banged his head repeatedly against the wall to commit suicide but was forced to stop. He is now under continuous watch."
JOIN OUR PULSE COMMUNITY!
Recommended articles
NNPC announces new nationwide fuel prices, effective immediately
Nigerian actor Hawwal Ogungbadero, 29 others set Guinness World Record for longest recording session
10 African countries with the lowest digital quality of life index
Nigerians react as Tinubu's daughter declares self as Iyaloja General of Nigeria
Nigerians express concern over immediate implementation of subsidy removal
Ghana may lose control of its resources to China if it defaults on its debt
Top 10 richest mineral-producing countries in Africa
Veteran Nollywood actor Adewale Adeyemo is dead
Africa's richest woman Isabel Dos Santos finds herself deep in another financial scandal