Meet woman who became pregnant at 13 and now mum-of-six at 23
This 23-year-old brave young woman has hit back at people who criticised her for having so many children at a young age.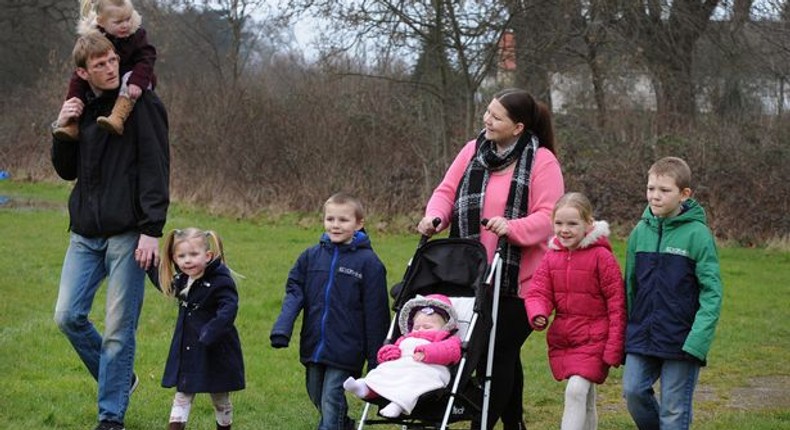 Shannon Carter, 23, first got pregnant when she was just 13, for her 17-year-old boyfriend Gavin.
In an exclusive interview with Daily mirror, Shannon revealed that she got pregnant because nobody advised her pre-marital sex and contraceptives: "My parents had broken up when I was seven. Dad vanished, and my mum – who has since died – swore, smacked and shouted me into my teens. There were no cuddles, no "I love yous".
When Gavin showed an interest in me, I'd been flattered. He was my first boyfriend. We'd had sex, but I knew nothing about how babies were made. I only realised I was pregnant on Boxing Day 2005 when I thought I'd eaten too much.
After they delivered the baby, the doctors hadn't even bothered to explain how to take care of a baby to me. Why would they? After all, I was just a stupid little girl who'd got herself pregnant."
Sharron who now teaches sexual education in a school added that she'd never been taught properly about contraception so I wanted to make sure the next generation was.
"I am proud of using my experiences to teach the things I wish I'd known."
Although now happily married to Lee Aram, 37, she said she is tired of people who insult and criticise here for having such a big family at such a young age. I feel like taking them on sometimes but I keep quiet because I don't want my children to see their mum confronting someone in the street.
She says "My biggest challenge isn't money or time or keeping the house clean.
It is being judged. Every day, someone belittles me for being a young mum. It's dirty looks at the school gates, or bus drivers asking if I'm the babysitter. How dare they? I'm a good mum. I put my kids first. I don't feed them sweets or let them watch hours of TV.
They do their homework and say please and thank you. They are six lovely little people. I've created a stable happy family. My children are surrounded by love, and there's no age limits on that. Having children young isn't a burden, it's a privilege."
So Sharron says next time you see a teen mum in the street, don't pity or judge, just pop over and have a chat. They are just like you, trying to do the best they can for the kids they love.
JOIN OUR PULSE COMMUNITY!
Recommended articles
'Shanty Town': RMD speaks on scene with Nancy Isime, says friends want to 'touch things' like him
Tribunal sacks Adeleke as Osun Governor
Osun: Adeleke breaks silence, reveals next move after sack
32 passengers kidnapped in Edo train station attack
Here are ways to naturally enlarge the male organ
'Domitilla: The Reboot' teaser invites you into the dangerous, intriguing lives of sex workers
Obi makes surprise visit to Boko Haram-ravaged Southern Borno
4 things to do if you have a higher sexual drive than your partner
Kenya and Tanzania tear down 23 trade barriers hindering their commercial relationship