5 reasons why the scheme should be scrapped
There are strong murmurs for the NYSC to be done away with.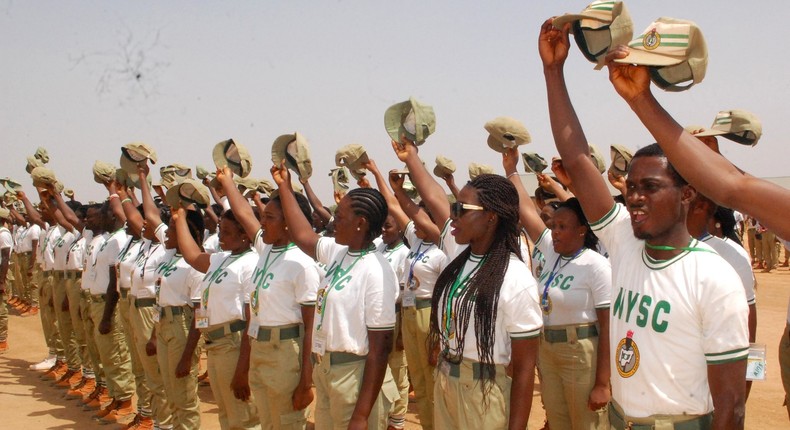 The National Youth Service Corps was established in 1973.
General Yakubu Gowon in an attempt to work on the 3R principles (Reconstruction, Rehabilitation and Reconciliation) created the NYSC scheme under Decree no. 24. This was three years after the civil war.
According to the  Decree No.51 of  June 16, 1993, the NYSC scheme was set up to achieve these objectives;
(a)        inculcate discipline in Nigerian youths by instilling in them a tradition of industry at work, and, of patriotic and loyal service to Nigeria in any situation they may find themselves;
(b)         raise the moral tone of the Nigerian youths by giving them the opportunity to learn about higher ideals of national achievement, social and cultural improvement;
(c)         develop in the Nigerian youths the attitudes of mind, acquired through shared experience and suitable training, which will make them more amenable to mobilisation in the national interest;
(d)         enable Nigerian youths acquire the spirit of self reliance by encouraging them to develop skills for self employment;
(e)         contribute to the accelerated growth of the national economy;
(f)          develop common ties among the Nigerian youths and promote national unity and integration;
(g)         remove prejudices, eliminate ignorance and confirm at first hand the many similarities among Nigerians of all ethnic groups; and
(h)         develop a sense of corporate existence and common destiny of the people of Nigeria.
44 years after its establishment, there have been strong murmurs for the NYSC to be scrapped especially from young Nigerians. It is unlikely that the one-year mandatory service would be scrapped anytime soon as the debate still rages on.
For those who want the NYSC to be gone, here are five reasons why they feel it has no place in today's Nigeria.
Spending one year in mandatory service is outdated. While our counterparts abroad start to do positive things from an early age, the Nigerian youth is bugged down by a horrible educational system and a mandatory one-year service to a country that has done nothing for them.
JOIN OUR PULSE COMMUNITY!
Recommended articles
South Korea eyes one of Nigeria's precious minerals
List of African countries and how much of their salaries they spend on iPhones
He passed NECO in one sitting, I was surprised he joined Marlian group, Mohbad's ex-principal
4 highlights from Thursday's pool party on 'BBNaija All Stars'
Top 10 African countries with the highest food inflation rates
Despite $3 billion bailout, Ghana has essentially gone bankrupt
Ghana is looking to supply Nigeria with its electricity needs following power grid shutdown
Burna Boy's South Africa concert has been cancelled, here's why