Cable thief given muddy treatment in Anambra (Graphic Photos)
A man who was caught stealing cables in Anambra State was only saved by the police after an angry mob wanted to set him on fire.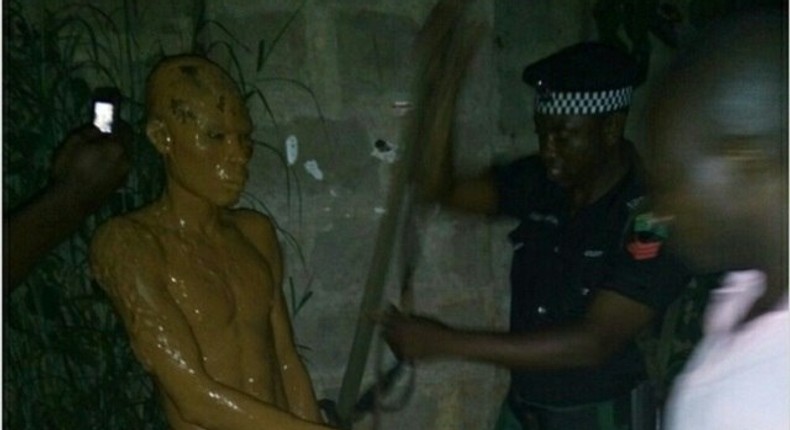 It was a bad day in the office for a man who tried his hands at
According to the person who posted the sad incident on his Instagram account, Otijah, the thief had sneaked into their compound to steal the cables in the dead of night but was caught by the security man on duty.
The security man raised an alarm which brought a crowd and they quickly stripped him and gave him the beating of his life.
He was made to roll in the mud for hours and his situation could have been worse because the crowd wanted to set him ablaze if not for Otijah who rushed to call the police and he was rescued and taken away.
This is what Otijah wrote:
"This guy was caught stealing cables used for wiring our house last night in Oba in Anambra state.
He was caught by the Hausa security man on guard, and beaten to a pulp by the whole community. I had to rush and call the police as I noticed they were about setting him on fire."
Many Nigerians have continued to decry this type of treatment given to suspects while the bigger thieves are walking free and even held in high esteem.
JOIN OUR PULSE COMMUNITY!
Recommended articles
'I've never liked him' - Mikel Obi picks his choice between Messi and Ronaldo, reveals his World Cup favorites
Saudi Arabia players get N592 million Rolls Royce as gift following epic World Cup comeback win against Argentina
Phenomenal gospel singer, Sammie Okposo passes away at 51
19 and dangerous Ayra Starr sparks outrage with her skimpy outfit to the Meta concert
To mention his name is a disgrace to me - Tinubu aims dig at Obi
Ayra Starr reacts to backlash over skimpy outfit
Yoruba actor Olamilekan Ojo passes away, loses battle with lung cancer
2 ways to lighten the skin naturally with tomatoes
Round of 16 Draw: Real Madrid to play Liverpool again, PSG, Messi to meet Bayern Munich