Community in chaos as woman emits maggots from private part [Photo]
Residents Olakula area of Idiroko have been left shocked by a woman emitting maggots from her vagina.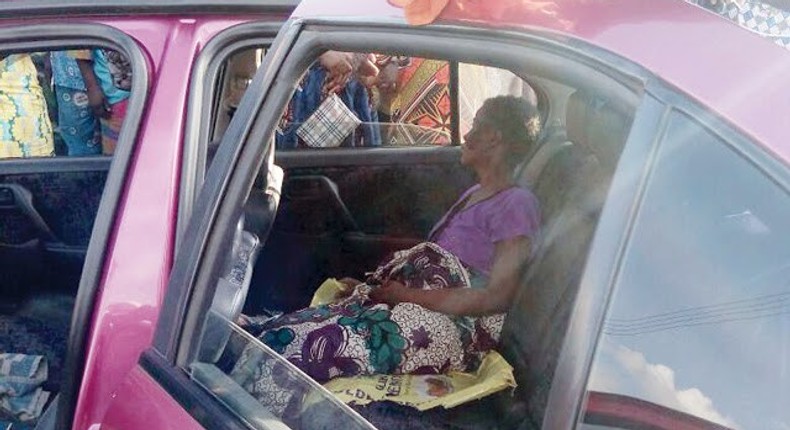 A woman identified simply as
The community was thrown into chaos as maggots dropped out of the woman's private part as she was seated in a car with the help of her family members as well as sympathisers.
It is assumed that Iya Toheeb has been a victim of rituals especially after her condition has defied orthodox medication.
Iya Toheeb was reportedly taken to the place of a carpenter in the community, to whom she was once married.
An eyewitness at the scene told The Nation,
"The woman was brought to the carpenter who was her former husband. Her family members believed that the man may be responsible for her worsening condition that defied treatment in hospital where she was admitted for months.
"Doctors were said to have advised her relatives to seek alternative medicine to her ill-health because it had gone beyond the purview of orthodox medicine.''
"The woman had dated different men in the past and it is believed that she may have been used for money-making ritual going by what we heard from those who know her.
"She has no wound in her private part yet maggots keep dropping from her sexual organ and that sends a signal that there is more to her problem than meets the eye, particularly since doctors have asked her relatives to seek help from native doctors for solution to her problem."
According to the reports, the carpenter suggested that Iya Toheeb was being punished for her promiscuity and that her family brought her to him in the hopes that he could be of help.
The air was filled with the stench emanating from the woman as sympathisers helped spread a sack on the car seat to keep the maggots from the floor of the car.
Shortly before the woman was taken away, she said: "This is what my beauty has done to me o."
JOIN OUR PULSE COMMUNITY!
Recommended articles
For women: 4 foreplay tips to drive men wild
Family rejects coffin from son-in-law for his mother-in-law's burial, says it's not beautiful
BBNaija's Nini says 'yes' to Saga as they take things to next level
4 African countries are responsible for 70% of the chocolate in the world
DSS confirms plot to install interim government to stop Tinubu
Yul Edochie loses first son with May, Kambili
Train crash: Bus driver begs for forgiveness after psychiatric, drug tests
Yul Edochie urges Lagos police to investigate son's death
Jada Pollock criticised for promoting Wizkid album on eve of Davido's release