Muslim feminist plans to open more liberal places of worship
Ates has received several death threats for opening a liberal Mosque in Berlin, but this is not stopping her from opening more.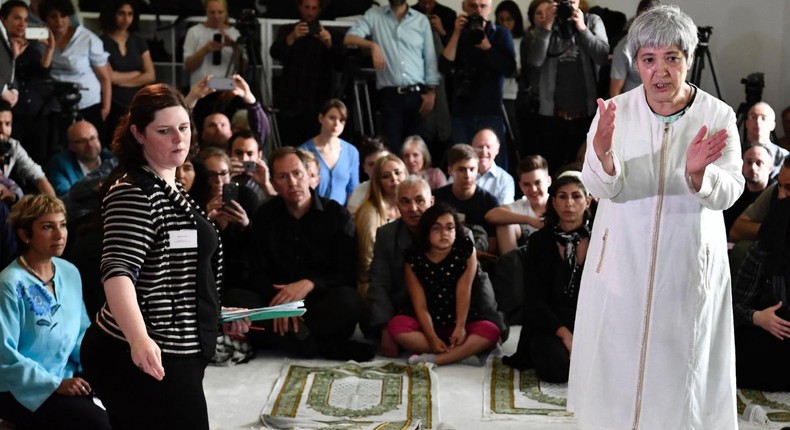 On June 16, 2017, Seyran Ates broke the norm by opening the
As the name implies, the place breaks a lot of Islamic rules of worship.  This has not gone down well with Muslims.
Yet, the Turkish-born lawyer and activist has announced her plans to open another one in the United Kingdom and more in Europe.
Whilst visiting London in search of potential sites for her next Mosque, she had an interview with the Guardian.
According to Ates, her liberal places of worship is the beginning of a revolution in Islam.
The 54-year-old added that she is not the only one who wants this for Muslims.
In her words, "I'm not alone with this idea. It is a movement, it's a revolution," she told the Guardian.
"I may be the face of the liberal mosque, but I alone am not the mosque. We have millions of supporters all over the world."
In Ates' mosque, anyone is allowed in. Women, men, the LGBT community and anyone from all strands of Islam is welcome.
Another taboo that is broken in this mosque is admitting women without headscarves, known as burqas or niqabs.
Ates' explanation for this is that "there is no Islamic requirement (to cover one's head). There is no theological argument even in the most conservative interpretation of the Quran.
"It's men saying, 'I cover her because she is my property.'"
The mosque has received lots of criticism from many Muslim bodies for this and other taboos.
Turkey's main Muslim authority, Diyanet, has called the mosque an experiment "aimed at nothing more than depraving and ruining religion."
Turkey's Sabah newspaper has also called the mosque practices "the so-called prayer of the perverse".
In fact, the founder has been forced to get a round-the-clock protection from German police, The Local reports.
Ates said, "Over social media, I have received so many death threats due to the founding of the mosque that the State Office of Criminal Investigations has determined that they must protect me around the clock."
If death threats haven't stopped her, I don't think there is anything that is going to stop her from having more liberal mosques.
JOIN OUR PULSE COMMUNITY!
Recommended articles
BBNaija 7: Chichi twerks aggressively on Deji [Video]
BBNaija 7: Beauty's fans weep as Phyna replaces her under the duvet with Groovy
Super Eagles star Kenneth Omeruo makes history at Leganes
BBNaija: Beauty disqualified from reality TV show
BBNaija 7: Highlights from Week 2's Saturday night party
BBNaija 7: Biggie might be swapping housemates today, here's why
Nigeria's Falconets defeat France 1-0 in heavy rain
Check out photos and videos from Mercy Chinwo's wedding ceremony
Falconets vs S. Korea: Time and where to follow the decisive U20WWC match