Pontiff urges church to embrace the modern world
The Vatican revealed that 70,000 pilgrims had packed into St Peter's square and surrounding streets to watch Francis open the usually bricked-up wall in the facade of the renaissance basilica.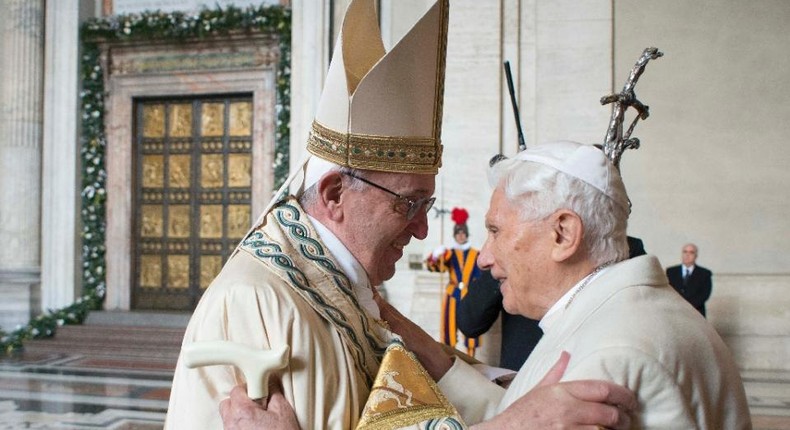 Pope Francis has urged churches across the globe to each out and embrace the modern world.
He expressed this view on Tuesday when he launched n extraordinary Catholic Jubilee year of mercy by opening a "Holy Door" in the walls of St Peter's, embracing a 700-year-old tradition.
"This is the door of the Lord. Open to me the gates of justice," the Argentinian pontiff said before being helped up three marble steps to push the giant bronze doors open.
The 78-year-old then paused on the threshold of the renaissance basilica for two minutes of silent prayer before walking inside in an act to be carried out by millions of pilgrims before the Jubilee closes next November.
According to Yahoo reports, the pope was then followed through the door by his frail predecessor the now-retired Benedict XVI, 88, and by hundreds of cardinals, bishops and male and female members of religious orders.
Among them was Cecilia Koo from South Korea. "This pope says he is here to serve. He is one of my favourites," she said.
Francis said the 1960s council had allowed the Church to emerge from self-enclosure.
"It was the resumption of a journey of encountering people where they live: in their cities and homes, in their workplaces," he said.
"Wherever there are people, the Church is called to reach out to them and to bring the joy of the gospel."
JOIN OUR PULSE COMMUNITY!
Recommended articles
5 kitchen ingredients that you can use for pink lips
The best time of day to have sex, according to research
Nick Cannon's massive bulging pants trends after appearance on TV show
Truck reportedly crushes school students in Ojodu Berger, Lagos
4 things couples should do after sex to avoid infection
Here are 7 things your partner does not need to know about you
UK will continue to process work, student visas for Nigerians despite Omicron ban
Man battles for life at hospital after being raped by 2 women, leaving him unconscious
Ladies! Here's one major reason why guys suddenly stop showing interest in you after some time