Why Drake was absent in singer's 'Come closer' video
Wizkid has supplied a reason for why Drake didn't show up for his new video shoot.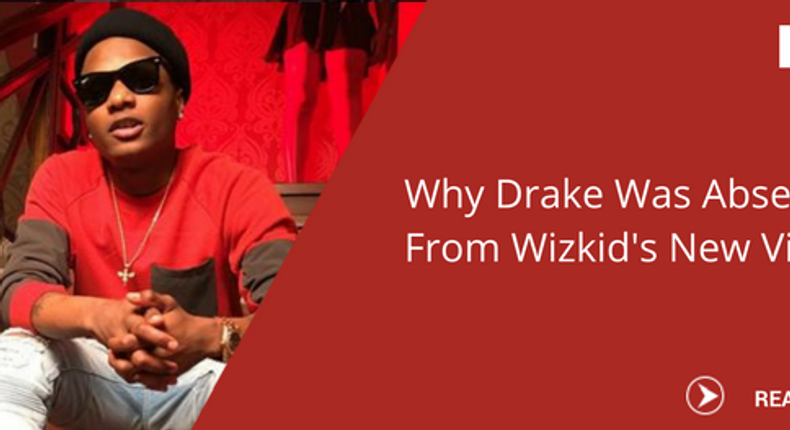 Wizkid has revealed the reason why Drake was absent in his new video for 'Come Closer'.
The Nigerian singer has released the visual for his collaboration with the US rapper – 'Come Closer'. The video was directed by Dapo 'DAPS' Fabenle, and Drake was conspicuously absent.
And as fans continue to wonder why, and inquire on social media, Wizkid has responded. In 2016, the singer was absent during Drake's video shoot for 'One Dance', and failed to make the final cut. And according to some section of fans, it was payback time.
Wizkid has responded. Replying a fan, he said: "Had a family emergency during 'One Dance' video shoot, and Drake was on tour when we did 'Come Closer'. No bad blood, one love still" He tweeted.
The tweet was quickly deleted, but not before Pulse got this screen shot of it.
"Came into the game, no one replace me/Mi love mine and she straight with no chaser/I love my guys, know mi all about mi paper/Mi got mi girls all around me, mi no chaser, yah/Starboy, call me number one/When mi tune drop, the girls, they bounce along/Mi no like nothing come between me and mi paper/So when mi come inna di place, mi undertaker," he rhymes.
Drake's absence was clearly obvious as his verse had no one to mime it., except Wizkid, who handled it admirably. "Too mix up in drama to go outside/Too mix up in drama to free my mind/Jealous people around me, I need to change my life/I just turn colder every time I try/What would I do without you, my chargi?/I don't feel that way with anybody/Tell me your secrets, I'm not messy/Steady it for me, girl, hold steady," Drakes spits.
Drake has a history of not showing up in videos. He did it to Future with "Tony Montana," Migos with "Versace," and Fetty Wap with the "My Way" remix. He hopped on all those songs and refused to show up to shoot the respective videos. Wizkid is just the latest.
Wizkid is signed to RCA Records, a subsidiary of Sony Music Entertainment. He is expected to drop his third studio album this year.
JOIN OUR PULSE COMMUNITY!
Recommended articles
Lai Mohammed appointed managing partner of international lobbying firm
Masturbation may increase a male primate's chances of impregnating a female - Study
Tanzania could become the top investment destination for Australia
DRC and Angola set aside a 50-year oil block dispute to become joint holders
Sex is now a sport in Sweden, all you need to know about the competition
Portable Zazu announces the arrival of sixth child with Yoruba actress
Veteran Nollywood actor Adewale Adeyemo is dead
Naira marginally rises against dollar in 24 hours of Tinubu's presidency
'There was a point...I was seeing the stage upside down' - Hilda Baci