5 Cities that already have driverless public buses right now
They are not fast or anything and they don't even travel particularly long routes. But these small projects are important steps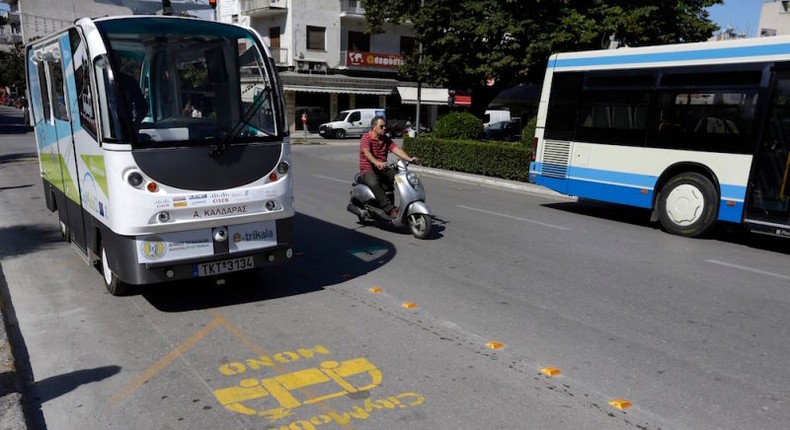 There is no denying that someday we will travel the roads with autonomous vehicles that drive themselves.
However, while it may seem like that is still only going to happen in the very distant future, which is not strictly true. The fact is there are already cities where autonomous vehicles operate on public roads. They are not fast or anything and they don't even travel particularly long routes. But these small projects are important steps because these vehicles are designed for mass transit.
Here are five cities where autonomous vehicles are already in use:
1. Lausanne, Switzerland: Until June this year, six of EasyMile's EZ10 shuttles drove a 1.5-mile dedicated track that helped deliver students and professors from the local metro station to different corners of campus. There were no reports of any accidents during the six-month trial.
2. Trikala, Greece: This tiny city of 80,000 in Northern Greece is the first to test the French CityMobil2 system in actual real-life traffic. The 10-person electric buses travel along a 1.5-mile route that's on dedicated lanes in some parts of the city, but otherwise is sharing the street with cars, bikes, and people, part of an EU initiative to reduce emissions and get cars off the road.
3. Zhengzhou, China: Yutong, a Chinese bus company, is testing a self-driving bus along a 20-mile route from the cities of Zhengzhou to Kaifeng. Amazingly, this bus traveled at speeds up to 40 mph, changed lanes, and stopped at lights without any driver interference, although there was a driver sitting there.
4. Wageningen, Netherlands: A modified version of EasyMile's EZ10 bus, called WEpods, will soon start shuttling six passengers at a time from Wageningen to Ede in the Netherlands. The 17-minute drive will mark the first time a bus travels on completely public roads with no purpose-built infrastructure.
5. Milton Keynes, UK: The little LUTZ Pathfinder vehicles will act like Masdar City's PRTs but on city streets, according to a NextCity report, an "on-demand, publicly run system of 30 to 40 driverless two-seater pod cars, which will allow residents to travel between any two points in the city's downtown without navigating or reacting to obstacles themselves."
Watch video of the Yukon driverless bus below.
JOIN OUR PULSE COMMUNITY!
Recommended articles
I'm humbled - Peter Obi reacts on warm reception at Redemption City
2023: Obi, Tinubu, others to pay N10m for campaign posters in Anambra
I remain LP's governorship candidate in Plateau – Margif
Minister threatens to sanction Chinese company over rail contract
Police arrest 4 suspected carjackers terrorising residents of Lagos
Police committed to strengthening evidence-based investigation - CP
616 PDP members defect to APC in Gombe
Works Minister assures timely completion of road projects nationwide
Gov Akeredolu to declare Araromi Seaside as Tourists Zone