Chinese automaker clones SUV, calls it 'Land Wind' [PHOTO
China has reproduced car that looks exactly like the Range Rover Evoque.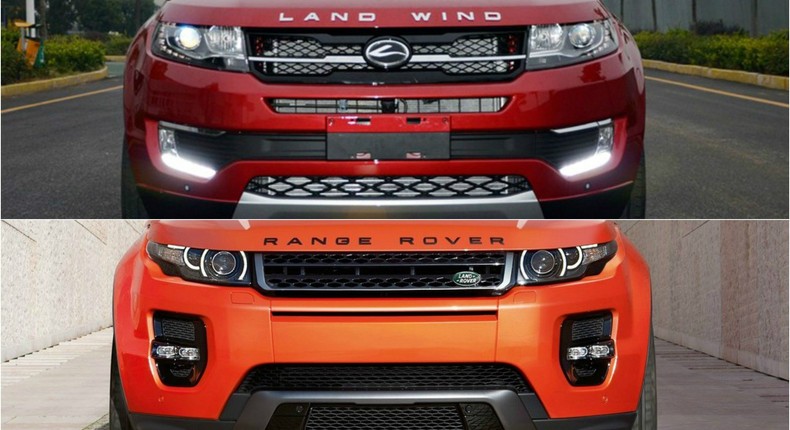 Chinese car makers, Jiangling Motors and Changan Auto, have cloned the Range Rover Evoque and given it a new name.
This replica is called the Land Wind X7 and was launched earlier this year in February.
Prices for the copycat range between 98000 yuan to 552000 yuan. (N12.m to N17m), while the original is about N30 million.
Similarities include same size, and the same 2.0 turbo petrol engine.
While both cars look alike, there are some differences, mostly in quality.
The Range Rover Evoque comes with: wheelbase-2660,  kerb weight-1850 kilo, Ford engine with 240hp and 340nm, mated to a nine-speed automatic, AWD, 10.8 liter per 100 kilometer, and a knob for a gear selector.
The replica has the following: wheelbase-2670, kerb weight-1775 kilo, Mitsubishi engine with 190hp and 250nm, mated to an eight-speed automatic, FWD, 10.4 liter per 100 kilometer, a much larger screen for the infotainment system and leather seats.
Pictures of this replica were shared on Twitter.
JOIN OUR PULSE COMMUNITY!
Recommended articles
Despite calls for southern presidency PDP wants northern aspirants to contest
Customs intercepts N3.9bn worth of cocaine on Seme-Badagry expressway
No aspirant boycotted Ekiti APC governorship primaries - Gov Badaru
Buhari sympathises with victims of market fire incidents in Onitsha
PDP will keep Soludo on his toes in Anambra – Party chieftain
U.S. Consulate launches anti-corruption website in Nigeria
Oyo Senator, Folarin loses wife in UK
Group roots for Tinubu, says he will hand over to youths
Avoid panic buying, Petrol Marketers urge Nigerians