How to easily grill fish in your microwave
Grilled fish is a meal for special occasions, but cravings can have you searching out the nearest restaurant for it. Now, you can prepare it at home!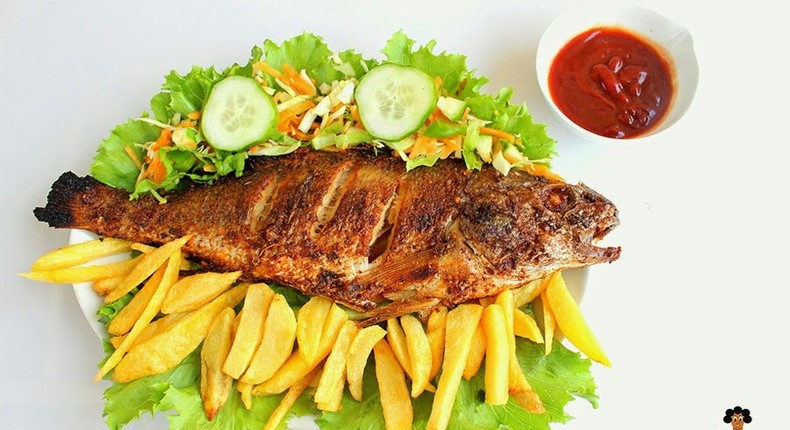 Learn how to prepare grilled fish in your microwave and from the comfort of your home.
Instructions
1. Clean the fish in salted water, removing the scales, gills and gut.
2. In a small bowl, mix the peppers, suya spice, ginger, garlic, salt and seasonings.
3. Place the fish on an aluminium foil and make some slashes on the body with a knife before rubbing the marinade into and around the fish with a brush or clean fingers. This will allow the marinade penetrate the fish well. Cover with the foil and allow to rest in the fridge for about 30 minutes.
4. Remove from fridge and place in a glass bowl or microwave dish, still covered in foil. If your microwave has a grill option, great. If not, cook for 90 seconds with a 30 minute interval. Do this until your fish is cooked. This requires a lot of attention.
Your fish can be eaten with chips or rice.
JOIN OUR PULSE COMMUNITY!
Recommended articles
The Library: Redefining nightlife in Lagos
5 simple tips for finding love while travelling
Fashion Police: Here's what we think about Chioma Good Hair's birthday shoot
5 s*x positions that guarantees orgasms
Here are 5 things you must do immediately after you have s*x
Can having a lot of s*x loosen the vagina? Here are all the myths and facts
The history of the Ojuelegba area in Lagos
Ladies: Here are 4 reasons why garden eggs should be added to your diet
How belly buttons can cause body odour