Why we love our Nigerian Garri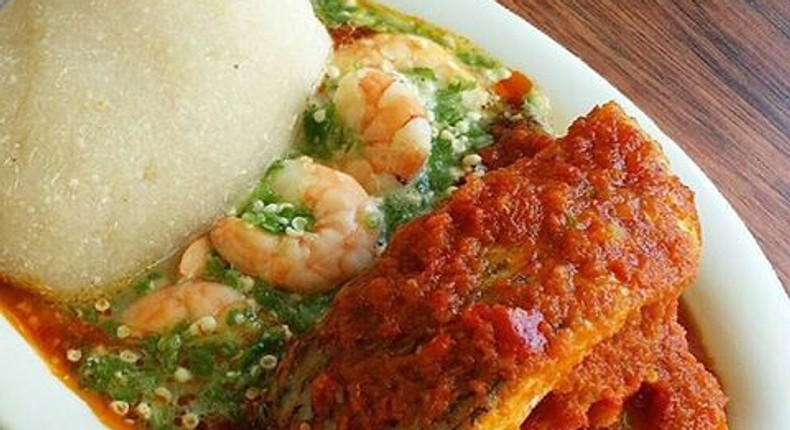 Garri, otherwise known as cassava flakes is one of the several amazing foods in Nigeria.
It's Processed from cassava tubers and is considered to be a life-saving food because of it is versatile enough to be prepared into a variety of delicacies and that's why we love our Garri.
Here's a list of varieties of sumptuous dishes Garri can be made to.
This is the popular, easiest and fastest recipe of Garri known in Nigeria. This combination is a life-saver indeed. With a cup of cold water, sugar and milk as sweeteners and flavouring, and some coconut (optional), you're good to go.
Eba is a classic dish and appetite-soothing dish. Easy to prepare, Eba is made basically by adding hot water to a reasonable amount of Garri in a bowl, and stirred with the aid of a stirrer (popularly referred to as Omorogun) to stir the contents of the container until you have a homogenous mix. This popular food is often eaten with richly made soups and stews.
Although known by only a few of the nation's population, this delicious mix of beef, vegetable sauce with grated stir fried cassava is one awesome delicacy of Garri I can't get over. Garri is basically mixed with very little cold water and fluffed with a fork before adding hot sauce or tomato paste and all the spices of your choice.
4. Garri chocolate truffle
Have you ever thought of paring garri with chocolate before? You probably feel it's a weird thing to do, right? Garri truffle, a perfect mix of chocolate and Garri, is just it. With a good quantity of chocolate, condensed milk, butter, Milo and crushed groundnuts, you've got it all ready. Easy to prepare and great taste.
Made by combining dry Garri with little water, then incorporating butter and sugar to it to form a cake-like structure, Garri cake is sumptuous, milky and delicious. The cake is iced with butter, milk and some sugar. Uhmm. Yummy
JOIN OUR PULSE COMMUNITY!
Recommended articles
Women Talk Sex: I like men who don't overthink their masculinity during coitus
Sights and sounds from Fenty's Beauty launch in Nigeria
Best celebrity pictures on Instagram this week
Did you know some men find it hard to ejaculate? Here's why that happens
5 millennials talk about what they miss about being kids
Badagry Slave Route: Slaves passed these 5 notable stops on their journey of no return
Exclusive dinner or luxurious spa date for you – Match and Go!
3 celebrity looks inspired by Rihanna's pregnancy fashion
Check out StarTimes 2022 price and never-to-miss shows