Top 10 blunders of the year
What is a year without blunders from people we love and love to hate? Check out the top ten blunders of 2016.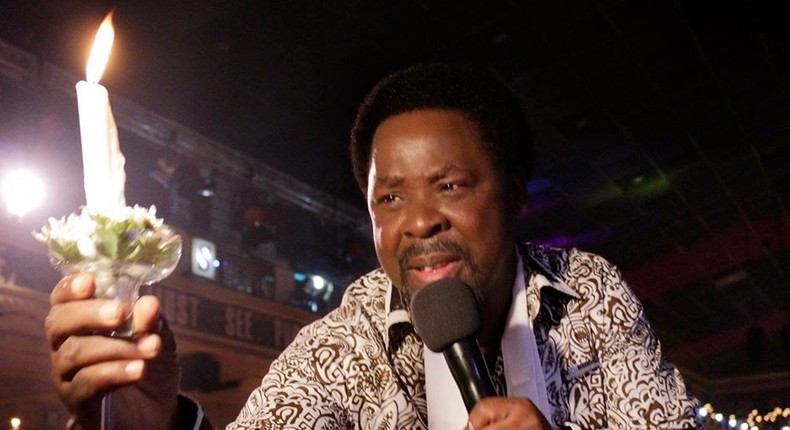 Everyone makes blunders but some blunders are bigger than others.
In 2016, quite a lot of celebrities made top blunders that will forever be remembered in the halls of times. Social media did not spare them when they made these mistakes.
Some of these blunders where honest mistakes while others were just products of bad thinking and execution. Anyway, enough of the talking. Enjoy reading the top ten blunders of the year.
1) President Buhari and the 'other room'
When the number one citizen in the country decided to do a little wordplay in response to his wife's criticisms we are pretty sure that he did not expect the negative criticisms and trolling.
In faraway Germany, the President joked that the First Lady belonged to the kitchen and the other room. The whole world did not find it funny. This statement was a huge embarrassment for the President.
2) T.B Joshua's presidential prophecy
This controversial man of God has a knack for making prophecies. Strangely, these prophecies are somehow revealed to the public after they had come to pass.
However, during the presidential US elections, the Synagogue of All Nations leader decided to switch things up. Feeling bold about his spiritual prowess, he proudly proclaimed that Hillary Clinton would win the election. Ouch! His prophecy didn't come true and Nigerians trolled him for days. The man of God was forced to take down the prophecy from his Facebook page.
Enraged by the sad state of things between him and his wife Tiwa Savage, the talent manager took to Instagram to blast his better half. He called her ungrateful after bringing her up from grass to grace. He also shockingly accused Tiwa Savage of having sexual relations with her label mates.
After his meltdown, he threatened to commit suicide. The next day Tiwa Savage changed the narrative and exposed Tee Billz's shortcomings as a husband and father. Tee Billz made a huge blunder because he never thought his wife would strike back.
The Nigerian Communications Commission decided to feel the wrath of Nigerians when it announced that the prices of mobile data will be hiked.
Nigerians reacted swiftly and bashed the NCC for being insensitive to the plight of Nigerians. The backlash was so strong that the Minister of Communication in Nigeria and the Presidency steered clear of the NCC's controversial announcement and made it take its L alone. The NCC backtracked a few days later.
5) Toyin Aimakhu and the cancer patient
Always controversial, Toyin Aimakhu lived up to her notorious reputation during the Mayowa Ahmed controversy.
Mayowa Ahmed who was suffering from stage IV ovarian cancer pleaded to Nigerians for funds to save her life. Moved by her plight, Toyin Aimakhu visited Mayowa and begged Nigerians to save her life.
Days after the necessary funds were raised, Toyin Aimakhu made a u-turn saying the whole thing was a scam and Mayowa Ahmed's family were planning to abscond with the money.
After investigations, there was no evidence that her family wanted to run away with the money. Toyin Aimakhu quickly became a villain and was dragged by millions of Nigerians.
6) Seyi Shay and the EP saga
The talented singer went hard in 2016 in terms of blunders. However, her biggest blunder this year was the E.P debacle.
Surely an artiste like Seyi Shay with international exposure would know that E.P stands for Extended Play.
To everyone's surprise, she didn't. Instead of delicately curving the question, Seyi Shay confidently said that E.P stands for "electronic package." The jokes were heavy and the trolling brutal.
7) Gbemi Olateru Olagbegi and the Olumofin brothers
"Warri Warri do. Someone cannot play with you. Is dat how you used to do?"
Talk about petty dragging. Gbemi Olateru Olagbegi made a huge blunder by dragging the Olumofin brothers on social media.
The brothers gave petty a new name when they took to Instagram to blast the OAP. Oh, it was brutal. It was sensational. It was epic. If Gbemi had known, she wouldn't have gone at the brothers.
8) Oritsefemiand the Quilox fight
The self-titled Taliban singer is not new to controversies but his fight at Quilox nightclub is the highlight of his year and his biggest blunder.
On a very groovy night in Quilox, Oritsefemi fought a bouncer because Sound Sultan wasn't allowed into the V.I.P section. During the melee, the bouncer was injured and bleeding.
This incident led to an unpleasant situation for Oritsefemi. Sound Sultan denied that he was blocked from entering the V.I.P section. Due to the embarrassment, Oritsefemi claimed he had internal injuries from the fight. He later apologised to all parties involved.
9) Jordan Ibe & the Super Eagles
Last year, football player Jordan Ibe snubbed the chance to play for Nigeria in hopes that he would be called to play for the Three Lions of England. After waiting for England to call him for a year, Jordan Ibe has made a u-turn and says he is now available to play for the Super Eagles. The only problem is that Nigeria no longer needs him. Sorry Jordan.
10) Kanye West voting for Donald Trump
Yeezy has always been erratic in his ways but when during a concert he announced that he would have voted for President Trump, Americans and the rest of the world knew he had taken things too far.
The musical genius was bashed and criticised for forgetting his black roots. The criticisms played a part in his eventual breakdown that led to his hospitalisation.
JOIN OUR PULSE COMMUNITY!
Recommended articles
Bella Shmurda seemingly throws shade at Naira Marley in new tweet
Africa is set to welcome the idea of borderless trade within the continent
'For commodification of the naira, use cassava' [Pulse Explainer]
Why some people refrigerate their condoms before use
5 outfits for 5 days of work inspired by Regina Daniels
African countries by Netflix' contribution to their GDP
Sleep paralysis: Caused by witches or a natural occurrence?
Mohbad records 6 entries in top 10 of TurnTable Top 100
5 things women put on that men find instantly attractive