Watch Gorilla facial reaction after seeing pictures of apes on boy's phone
The incredible footage shows a boy scrolling through his phone's photo album as the gorilla watches intently.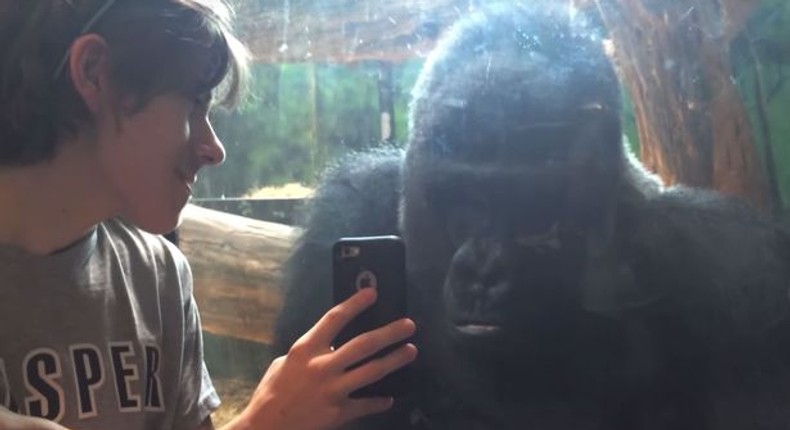 The pair shared a special bond as they settled down into a corner, both leaning up against the glass as they looked through the gallery of pictures together.
The primate was clearly intrigued by the mobile device as the boy flicked through pictures of other gorillas, pressing each image up against the glass cage so the animal could take a proper look.
Around them several interested zoo visitors take pictures as they marvel at the special bond between the two.
The amazing footage was shared on YouTube by Paul Ross and has had a whopping 500k views since September 6.
Paul wrote in a comment: "Touched my heart seeing that kid being so kind and gentle with [the gorilla]. I think it was a special moment."
He added: "I had the luxury of interacting with the kid and his family, and watching the whole scene play out for about 20-30 minutes.
"The zoo also says that particular gorilla likes watching photos and videos on people's phones."
It is not clear where the clip was filmed, although it is thought to be at a zoo in the US.
Watch the interesting footage below.
JOIN OUR PULSE COMMUNITY!
Recommended articles
Top 10 happiest countries in Africa in 2022
9 most expensive African countries to rent a one bedroom apartment, based on property price to income ratio
Here are the top 10 cities in Africa where the most rich people live
For men only: Seven natural ways to last longer in bed
If your partner is sapiosexual, here's how to turn them on
Femi Adebayo's 'King of Thieves' grosses over N250 million in box office
DaBaby had to 'pay the whole airport' in Nigeria in order to leave
BREAKING: Chelsea confirm Todd Boehly led consortium as new owners
2Face Idibia tattoos names of his 7 children on his arm