Plan to Kidnap Femi Otedola foiled by police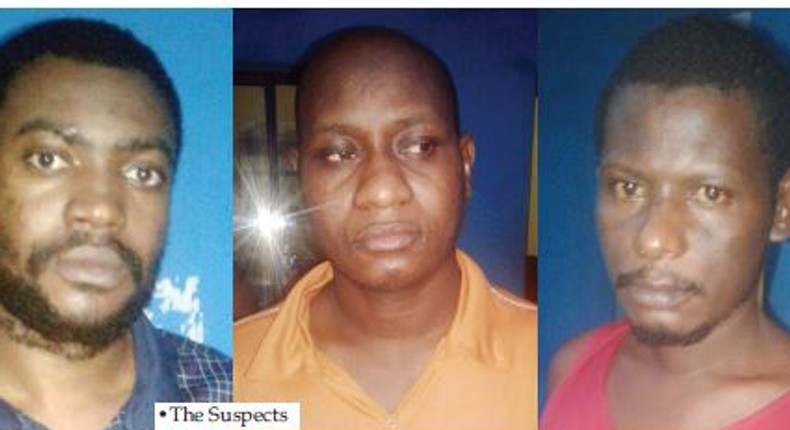 An armed robbery suspect has revealed the foiled plans of himself and his gang to kidnap billionaire,
The suspect, Ikechukwu Daniel, aged 28, was reportedly apprehended by operatives of the Inspector General of Police Special Intelligence Response Team, IRT.
He is being faced with the charge of allegedly organising the abduction of Senator Iyabo Anisulowo on April 27, 2016, in Ogun State.
The suspect disclosed to Saturday Sun that he and members of his gang had perfected plans to kidnap the billionaire businessman prior to his arrest.
Daniel went on to reveal how the presence of security operatives had caused them to miss Otedola at a function he attended in Ibadan Oyo State.
He added that someone working with the billionaire was responsible for the idea and also gave them information on the oil magnets whereabouts.
"I told my gang members that we must wait and plan very well before carrying out the operation.  I told them that the first thing I would do so as to ensure that the operation was successful, was to do spiritual sacrifice to the gods and ensure that I defeat spiritually before going for him.  You know a man like Otedola is powerful spiritually.
"Then the next step was to ensure that we get army, DSS and police uniforms.  I realised without impersonation there was no way I would be able to go close to a man of such status.  While the last on our list was to ensure that we monitor his movements regularly through our contact that is close to him and we would strike on a day that he has very little security men around me.
"I would have achieved all this by November and if we succeed it will be my last job as I would demand, N2 billion and I am hopeful he will pay nothing less than N500million."
The suspect also reveals that he does his best to be one step ahead of the DSS and police, by getting himself acquainted with their strategies when it comes to tackling kidnapping as well as other crimes.
"I have a friend who is into hacking and he helped me hacked into DSS and police websites and through that process, I normally monitor their new tracking methods.  Before I was arrested I knew the police was looking for me but I believed in my knowledge of Nigeria security apparatus but it failed me."
The suspects are currently in police custody awaiting trial.
JOIN OUR PULSE COMMUNITY!
Recommended articles
Sex is now a sport in Sweden, all you need to know about the competition
Subsidy: FCT to develop lanes as FRSC wants Nigerians to embrace bicycle
Peter Obi tenders more evidence in Presidential Election Tribunal
Kate Henshaw finally unveils daughter publicly
Veteran Nollywood actor Adewale Adeyemo is dead
Naira marginally rises against dollar in 24 hours of Tinubu's presidency
7 body parts you must clean every day to avoid body odour
2 ways to lighten the skin naturally with tomatoes
'There was a point...I was seeing the stage upside down' - Hilda Baci