This man has been to prison 8 times already
A perpetual thief and jailbird is going back to his habitat after being caught for stealing a phone and money.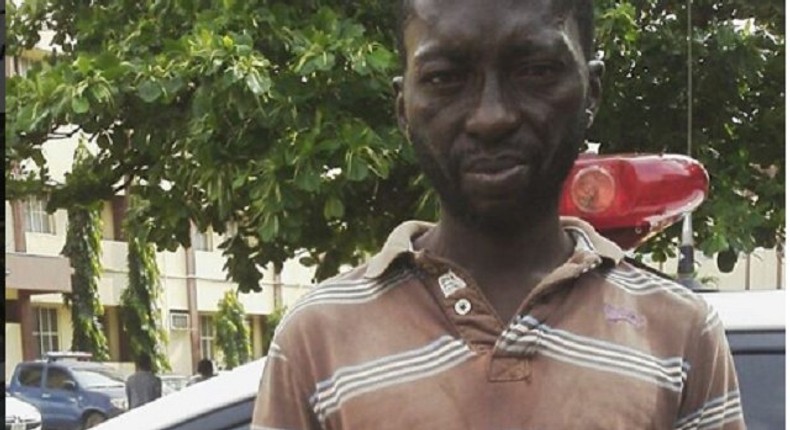 The prison door was opened again when he was nabbed by operatives of the Rapid Response Squad (RRS) of Lagos State Police Command, for allegedly stealing a phone and money, Guardian reports.
Oyewunmi who has been to prison three times this year alone was arrested on Friday, October 7, 2016, at the Ojodu Berger Bus-stop after he stole the phone and N600 from a bus driver and a passenger.
According to the police, Oyewunmi has been on the wanted list of RRS's operatives for stealing a Samsung Galaxy S4 belonging to one Adesewa Oni while he was working as a park keeper outside the Shoprite Shopping Mall in Ikeja.
It was gathered that when Oni drove into the premises of the Mall, Oyewunmi had approached her and offered to keep watch over her car for a fee.
At the end of the event she had gone to attend, Oni was said to have offered to drive him to a nearby ATM to withdraw some money out of which she gave him N1000 instead of the normal N200 paid to park keepers to watch over each car.
However, the woman left the suspect inside her car while she went to withdraw the money and when she came back, she handed the money to him and drove off, not knowing that he had stolen her phone.
While confessing to his crime, Oyewunmi said:
"I was pushed into it (stealing) by the need to get hard drugs. As soon as I got the phone, I went to Ipodo in Ikeja to get hard drug. It was the hard drug dealer that bought it from me. He bought it for N8,000. I spent the money on drugs."
"Hard drug has spoilt my life. It was the cause of my wife leaving and my father rejecting me. I got hooked on the drug while I was young. If I am imprisoned now, it would be the 9th time and 3rd time this year.
I am begging for forgiveness," he pleaded.
JOIN OUR PULSE COMMUNITY!
Recommended articles
Top 10 African countries producing Palm Oil
Top 10 most ethnically diverse countries in Africa
African countries with the cheapest household electricity prices
Top 10 African cities with the highest population growth from 2022 to 2023
Top 10 happiest countries in Africa in 2023
SAN reacts to alleged meeting between CJN Ariwoola and Tinubu
Davido reportedly spends over ₦300 million on new Lamborghini
Train crash: Bus driver begs for forgiveness after psychiatric, drug tests
5 ranking PDP lawmakers who became Labour Party casualties