Afrobeat legend's native white chalk makes a return
In the latter stage of his career, Fela was known with having native white chalk on his face. In 2016, the native white chalk is back in mainstream consciousness.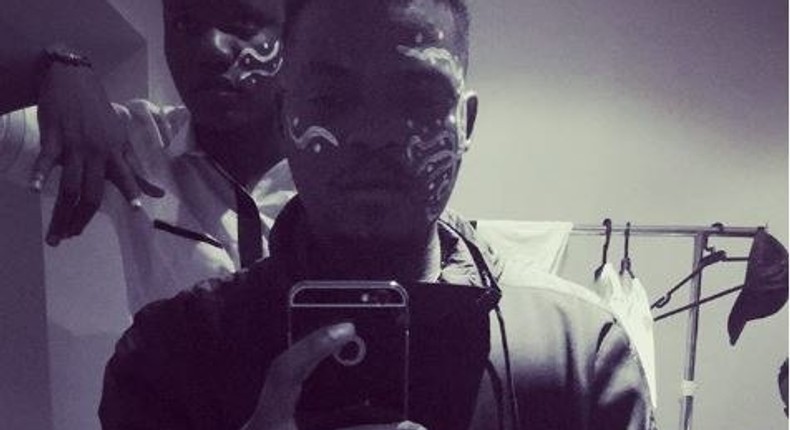 Felas life can be broken into three parts, Fela the musician, Fela the activist and Fela the spiritualist. Professor Hindu who claimed he could raise the dead (which he did when he visited Fela in Lagos) was one of the major players in the third stage of Felas life.
Professor Hindu (a Ghanaian whose names are Kwaku Addai) came to Lagos in 1981 at Fela's expense. The enigmatic musician would be struck by Hindu's parlour tricks and claims that he could communicate with spirits.
Later on, Fela also claimed that he communicate with the spirits and the dead thanks to Professor Hindu.
In the book 'by Jay Babcock, the musician would say this about Hindu. "He's the man who started showing me the way to truth, to myself, to my mission and to…my mother! He revealed to me that one has to put this white spiritual powder on the face to communicate with spirits."
At shows, Fela would go on stage with white spiritual powder around his eyes.
Years after Fela's death, the white spiritual powder is back in the mainstream once again. On Sunday, October 9, 2016, Olamide performed in London. Before getting on stage the rapper posted a photo of himself with white paint on his face. "Kalakuta things .. don't mess with my culture/heritage/tradition" he captioned the photo. Olamide's appearance with white paint on his face comes at a time when the trend is at its peak.
Laolu Senbanjo, the Nigerian born and bred artist as brought back the white powder or white paint into popular consciousness. He first made noise when Nike picked him to create a special Air Max with African themed design in March 2016.
His big break would come in the following month when Beyonce released the visuals to her album Lemonade. In one of the videos, Beyonce's dancers were painted in Laolu's patent white swirling and enchanting designs which he calls .
Since working with Beyonce, Laolu has painted on the likes of Seun Kuti, Jaden Smith, Davido, Alicia Keys, Swizz Beatz, Ibeyi, and others. Getting the cool Sacred Art of the Ori is the new cool among American celebs.
According to the Ifa website, "Ori has two roles: the physical and the spiritual. The physical functions of Ori will be familiar to us: our brains think, our eyes see, our noses smell, and our ears hear. Our mouths speak and eat and breathe. Our faces are different from all others and provide our physical identities. Our spiritual Ori are themselves subdivided into two elements: Apari-inu and Ori Apere. Apari-inu represents character; Ori Apere represents destiny."
On Laolu's website, he breaks down his stylistic drawing on the face and body. "In my language, Yoruba "Ori" literally means your essence, your soul, your destiny and also comes with a mantra. When I work with a muse, the muse, their Ori, and I become one. My Art form is physically drawing what's on the inside, what's in your soul, and your essence and being;  on your canvas which is the skin.  It's the deepest most spiritual experience I've ever had with my Art as an artist. It's amazing and energizing. The connection is phenomenal."
The renaissance of the mystic white paint art falls in line as many African-Americans are listening to songs from the Motherland. As Laolu Senbanjo is the Warhol of African pop art, Drake goes to West Africa to get his first number one hit.
There is a buzz right now for African culture. Maybe our African-American cousins are indulging in the Sacred Art of the Ori to connect with their African heritage and spirituality which was eroded by the slave trade era.
For the Nigerians, the spiritual white paint or powder is a way of reconnecting to our spiritual culture tucked away by white faced Christianity.
JOIN OUR PULSE COMMUNITY!
Recommended articles
Here are the 5 worst cities to live in Africa, according to Economist Intelligence Unit report
10 African countries with the largest foreign exchange reserves
Bolton's new 'Jay-Jay Okocha' wants to represent Nigeria ahead of England
Travel & Tourism: Here are the top 10 most developed countries in Sub-Saharan Africa
Peter Obi: How many parties could a man join in his lifetime? – Sowore
Ireti Doyle recounts how Adesua Etomi stepped in when her daughter was bullied in school
Why is the dollar shortage crisis in Africa getting worse by the day?
Abba Kyari escapes murder in Kuje prison
Top 10 happiest countries in Africa in 2022