Man murders student after raping her, commits suicide in Ghana
A young man in Ghana has committed suicide after raping and murdering a student in front of her mother.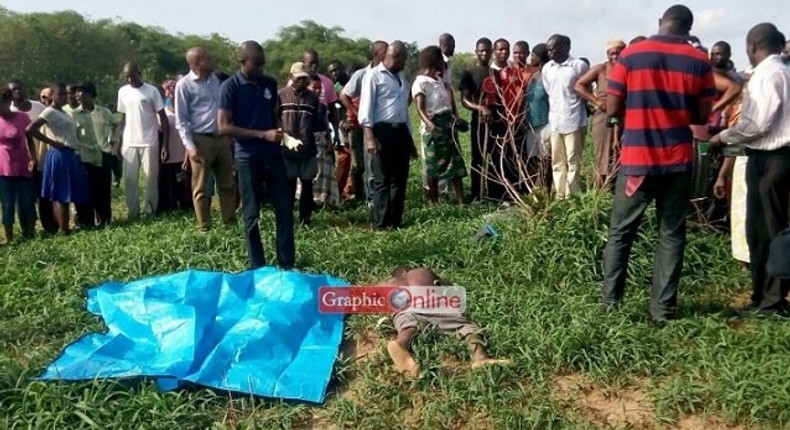 It was double tragedy in Ghana when a 25-year-old man identified as
After committing the despicable act, Azure then committed suicide by drinking a poisonous subtance later in the day.
It was gathered that the murder of the young student occurred on Tuesday, March 22, 2016, when Azure butchered her in the full glare of her mother and another lady.
According to the bereaved mother, Azure who was their neighbour, had broken into their room wielding a machete and an hammer, announcing that he was going to die but would ensure he also killed someone before his death.
He then the women that he was going to kill them if they prevented him from having sex with the student.
The deceased student, realizing that Azure meant his word and fearing for her mother's life, gave in to his request and he raped her in the presence of the mother.
Immediately after defiling the girl, Azure descended on her with the machete, inflicting wounds on her breasts and asked her mother and the other lady in the room to turn and face the window, after which he started inflicting knife wounds on the mother of the deceased.
The other lady, quickly pushed the door open and fled whilst shouting for help, with the assailant in hot pursuit but when he saw people rushing to the scene, he changed direction and fled the scene.
By the time the police arrived the scene, the girl was already dead while the injured mother was rushed to a nearby hospital.
A manhunt was mounted for the culprit and a search in his revealed the bloodied machete.
The police were later informed that the body of a young man had been found at different location and when they went there, the police realized that the body which had some whitish foam emanating from the mouth and nose, was that of the wanted Azure.
JOIN OUR PULSE COMMUNITY!
Recommended articles
Lai Mohammed appointed managing partner of international lobbying firm
Masturbation may increase a male primate's chances of impregnating a female - Study
Tanzania could become the top investment destination for Australia
DRC and Angola set aside a 50-year oil block dispute to become joint holders
Sex is now a sport in Sweden, all you need to know about the competition
Peter Obi tenders more evidence in Presidential Election Tribunal
Kate Henshaw finally unveils daughter publicly
Portable Zazu announces the arrival of fifth child with Yoruba actress
Veteran Nollywood actor Adewale Adeyemo is dead