Nigerian footballer arrested for drug trafficking in Cambodia
A Nigerian footballer has been arrested in Cambodia for trafficking drugs.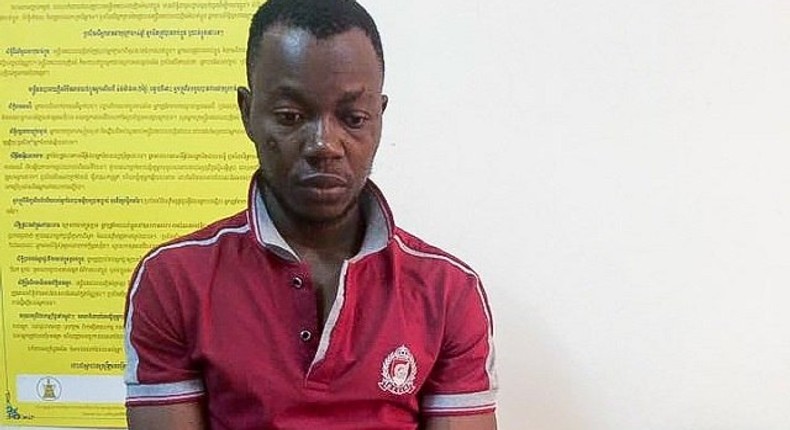 A 30-year-old Nigerian man,
It was gathered that Oderah was arraigned on Tuesday, June 7, after he had confessed to having acted as a delivery man, though he pleaded for leniency from the court since he was not a direct dealer himself. Oderah further said he knew the woman only over the phone, after another Nigerian friend introduced the two of them.
The Post reported that Oderah told the court:
"A woman called me to receive the drugs from a motodop and then to customers, promising to give me $50. When I got the drugs, I brought them to her customers near a petrol station in Choam Chao and the police arrested me.
I am sorry. I know I was wrong to break the law."
Drug trafficking in the East-Asian country carries a minimum sentence of 15 years to life. Oderah will know his fate in July when a sentencing hearing will be held.
JOIN OUR PULSE COMMUNITY!
Recommended articles
Video: Watch Samuel Eto'o kick a man outside World Cup stadium
How to make love: 3 surest ways to have intense/multiple orgasms
Here's how Peter Obi plans to deal with terrorism and banditry if elected
See reason Tanzanian president cancelled the country's Independence Day celebrations
Aliko Dangote the richest man in Africa just got richer
How can breasts be naturally firm and round?
The Crown Princess of Spain has a crush on Barcelona star Gavi
Labour Party's women leader assassinated in Kaduna State
#RIPTwitter trends as users predict app's downfall after mass resignation