Miyonse proves that nice guys finish first
Who says nice guys lose out? Miyonse in Big Brother Naija got cosy with the baddest chick in the house.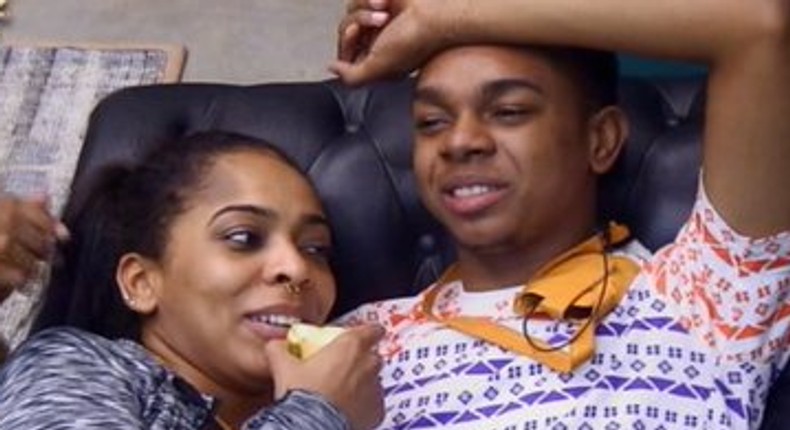 No, Miyonse is not a babe but a guy who has been the subject of many tweets and retweets. The light skinned Naija boy who is a contestant in the revamped Big Brother Naija has been dominating conversation online.
Miyonse is a rarity in our times. You see this guy with the baby face is a nice guy and nice guys are rare these days.
The rise of fourth-wave feminism has more or less wiped away nice guys. Chivalry is dead and bad boys who hold on to their ego and pride like swords are the new knights in shining armour.
Miyonse is still holding a torch for the few nice guys in the world. Since he got to the Big Brother Naija house he has unashamedly and unabashedly been in pursuit of one thing- the affection of the foxy TBoss.
Alpha, badass, sexy and worldly, T Boss is the type of woman mothers warn their sons about. She looks like she has broken a few hearts in her day.
Miyonse being the good guy he is has been smitten by her. And who can blame the poor guy? Who won't want to be with T Boss? Since the beginning of Big Brother Naija, he has been all over her. He has given her massages and followed her like a puppy all around the house if tweets are anything to go by. In other words, the dude has been thirsty.
In the contemporary scheme of things, Miyonse shouldn't have any shot at T Boss but as fate would have it the nice guy got a pot of gold last night.
The clip of Miyonse snuggled with T Boss under the duvet has gone viral. In the clip, our nice guy gives a big smile when his hands land on what millions of Africans saw yesterday when T Boss went topless. He looked like a little boy who finally got his hands in a cookie jar. And if you look at the clip closely, he seems he got more goodies.
Miyonse has done it for the nice guys. Persevere, be consistent and be a good boy and maybe just maybe that bad girl you have been chasing for years would look your way.
JOIN OUR PULSE COMMUNITY!
Recommended articles
"E don Do" and 10 other Male reactions to Maduka Okoye's Twitter Post
5 African countries that are the hardest for Nigerians to get into
Wizkid says that he wants to see Burna Boy and Davido win
Ways to get your wife in the mood - Tips for husbands
AFCON 2021: Super Eagles coach Eguavoen reacts to winning manager award
How Iheanacho cried after being dropped from AFCON 2019 squad - John Ogu
Wizkid's 'True Love' climbs American charts
Actress Regina King's son dies by suicide
NLC rejects proposed petrol price hike, says it'll send many Nigerians to early graves