'Infants sell for the same price as bag of rice in eastern Nigeria' - Foundation
The Thomas Reuters Foundation has come up with damning evidence indicting child traffickers selling babies as for the same amount as a bag of rice.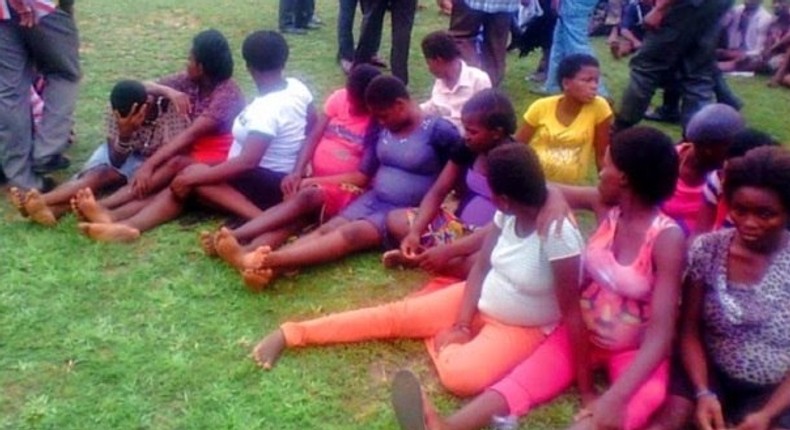 The Thomas Reuters Foundation has made a startling revelation that
Vanguard reports that the Foundation came to this conclusion after an extensive investigation that it embarked upon to which proved that the baby factories sell babies for as low as N20,000, the same amount as a 50kg bag of rice.
An investigative team of the Thomson Reuters Foundation spoke to more than 10 Nigerian women who were tricked into giving up their newborns to strangers in the baby factories in the past two years or offered babies whose origins were unknown.
The investigation also showed that the gangs involved in the baby trade paid men to act as studs to get women pregnant, after which the mother would be taken care of and after they put to bed, the babies are taken away and sold on the cheap.
Lending credence to the report is Arinze Orakwue, the Head of Public enlightenment at the National Agency for the Prohibition of Trafficking in Persons (NAPTIP), who said:
"The government is too overstretched by other issues to focus on baby trafficking."
The investigative report also revealed that a record number of baby factories were raided or closed down by NAPTIP in the southeastern states of Abia, Anambra, Ebonyi, Enugu and Imo.
The data showed that a total of 14 were discovered in the first nine months of 2016, up from six in 2015 and 10 in 2014, the data showed.
One of the victims of the baby factories interviewed, Maria, said in the home in Imo state where she gave birth, pregnant teenagers were welcomed by a maternal nurse who liked to be called 'Mama' but went on to sell the babies they delivered.
"After I gave birth, somebody told me that Mama collected big money from people before giving them other people's babies.
I do not know where my baby is now," Maria said.
Another woman interviewed by the Reuters Foundation who gave her name as Sophie said she was promised a baby of any sex by a herbalist she had sought help from to assist her in conceiving.
"The herbalist said that she would bring me a newborn baby, girl or boy, depending on which one I wanted."
The herbalist allegedly told Sophie that a girl child would cost N380,000 while a boy would cost N500,000. Sophie said she opted for a girl but a sense of obligation to the woman who brought her the child prevented her from reporting the crime.
"I considered everything and thought to myself 'why should I report the herbalist to the police?' She had helped me," she said.
NAPTIP does not have data on the number of domestic adoptions that have taken place, a figure it says is not held by the government.
"In the southeastern states, the sale of babies is unarguably very prevalent as recorded by the agency," said Cordelia Ebiringa, NAPTIP's commander in Enugu state.
Men are also said to be involved in the process of illicit baby trafficking, with sperm donors impregnating surrogate mothers who then sell their babies, according to one of the studs interviewed.
The man who gave his name as Jonathan said he was paid N25,000 by his boss every time he helped a client to become pregnant.
"I don't see it as somebody exploiting me. The madams pay me for my work.
I know what I do is wrong and I often think 'what if the police catch me?' But I have to survive.
These (baby traffickers) can be dangerous. They are ready to kill anybody if you stand in their way," Jonathan concluded.
JOIN OUR PULSE COMMUNITY!
Recommended articles
19-year-old girl stabbed multiple times in Accra after catching her brother & mother having sex
Sex Education: 5 ways to prevent premature ejaculation
5 ways to protect yourself from snake bites in the toilet
Man builds house upside down; toilet, kitchen & everything inside is overturned (video)
Sperm- killers, here are 7 things that men need to watch out for
Tiwa Savage changes song lyrics as Salma Mumin rains dollars on her in Istanbul club
8 signs your guy really wants to marry you
Super Falcons star Francisca Ordega shows off curves in stylish outfit [Photos]
North Korean man who smuggled 'Squid Game' into the country to be sentenced to death