Twitter user gives new angle to massacre
According to an individual on Twitter, a drug deal gone bad led to the killings in the house of God.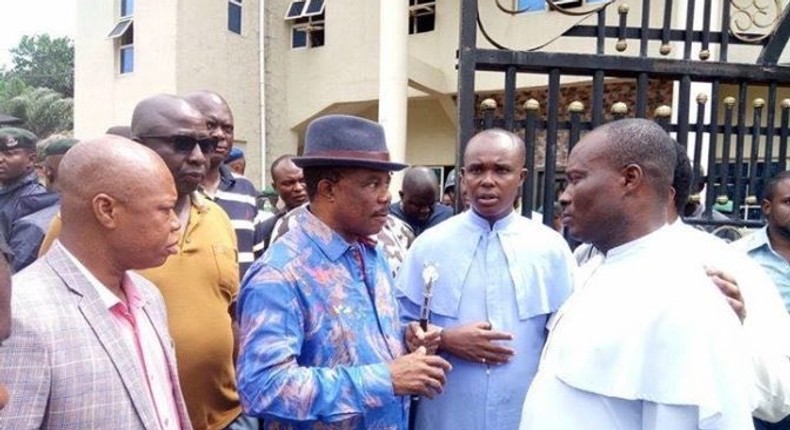 Today, Sunday, August 6, 2017,
The police have also confirmed that 18 people were injured in the massacre.
According to the Commissioner of Police, Mr Garba Umar, the person responsible for the bloody act is most likely an indigene of the state.
"From our findings, it is very clear that the person who carried the attack must be an indigene of the area," said Umar.
Additionally, he said, "We gathered that worshippers for 6 o'clock Sunday mass at St. Philip Ozobulu were in the service when a gunman dressed in black attire covering his face with a cap entered the church and moved straight to a particular direction and opened fire.
The man after shooting at his targeted victims still went on a shooting spree, killing and wounding other worshippers."
The commissioner also revealed that the gunman spoke in undiluted Igbo. No arrest has been made yet.
While millions of Nigerians are wondering what could have led to this act of murder in the House of God, a Twitter user @isinmiri claims to know the reason behind it.
According to @isinmiri, the story involves a man named Bishop who was dealing with drugs in South Africa with the rest of his gang.
Bishop would leave the gang and take away the gang member's money. This move annoyed the gangsters and they took revenge by killing those loyal to Bishop in Nigeria.
Bishop who had absconded with the money came back to Nigeria and used some of it to build the St. Philips Catholic Church allegedly.
Word got back to the gang and decided to strike against Bishop during the Thanksgiving service which was meant to hold today.
Isinmiri claims Bishop knew about the hit and decided not to show up. His father and other members of his extended family however attended. Bishop's father was among those who were killed today reportedly.
There is no substantial evidence to prove this story from the Twitter user.
According to an earlier report, Umar said the attack followed a quarrel between two natives of Ozubulu residing overseas.
JOIN OUR PULSE COMMUNITY!
Recommended articles
For men: 5 places you shouldn't touch a woman during s*x
Men, here's how to give your woman an extended orgasm
Top 10 African countries with the most transparent GDP data
Train crash: Bus driver begs for forgiveness after psychiatric, drug tests
Diya's country home in Ogun devoid of sympathisers
How a Deeper Life pastor allegedly deflowered teenager
Mercy Aigbe struggles to stay awake after Sahur during Ramadan
Top 10 African cities with the highest population growth from 2022 to 2023
Ayu: Wike backs suspension of PDP national chairman over election defeat