Late legend's manager talks about his influence, burial and legacy
At the age of 58, late Afro Beat icon, Fela Anikulapo Kuti had been arrested 200 times, contested for presidency and had married 27 women on the same day.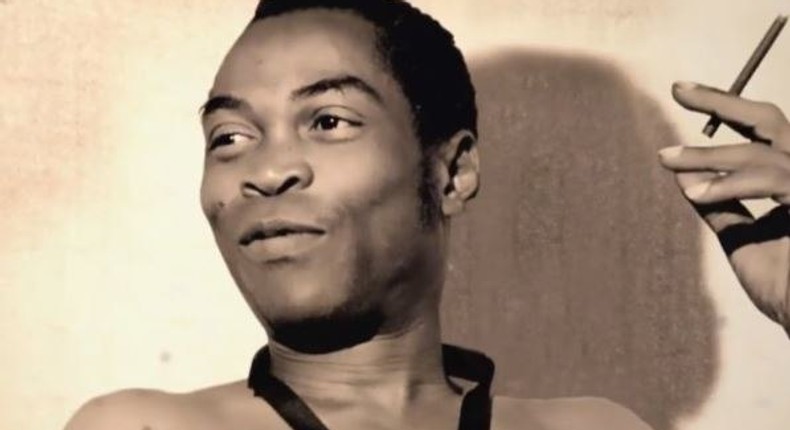 Fela's foremost friend , confidant and manager, Rikki Stein has had his first ever interview with Pulse.
At the age of 58, late Afro Beat icon, Fela Anikulapo Kuti had been arrested 200 times, contested for presidency and had married 27 women on the same day but to his manager, Rikki Stein, he remained an enigma and was first and foremost a friend whose bravery and resolve for change remains unrivaled.
For 15 years, Rikki Stein was Fela's manager and during this period, he dedicated 15 years of his life towards working with a man whose ghost and message continued to haunt the very walls of Nigeria's corridor of power.
In this interview Stein revealed how he met the fallen star, some of his unforgettable moments with him and how he came to respect the musical brand and person that Fela stood for. This year marks 20 years since the death of Fela, and according to Riki Stein, the great Abami Eda still keeps him busy.
"It's because we put up his music worldwide, the catalogue of 50 albums, plus compilations, plus Vinyls. We have a series of Vinyl box sets that we put out, that we invite respected artistes to curate. The first was Questlove from The Roots, the second was Ginger Baker, and the third was Brian Eno, and we are just in the process of asking Erykah Badu to do box 4."
In an emotional revelation, Stein detailed his first encounter with Fela Kuti in London, and how they were brought together via chance. The duo hit it off at the first meeting, which was the start of a great relationship which lasted for over a decade.
"I met Fela first in the back of a Mercedes van, on the M4 Motorway in the UK, lying in the heap of African dancers on our way back from a show. Someboy put on a cassette, and it was sorrow, tears and blood. I had never heard Fela before."
"I went away and did some research, and I found out some more. Then I met somebody, who knew one of the people that was working with him when he was in London on tour. At the time I was working on a rainforest festival, and I wanted to invite artistes from all the rainforest countries of the world to come together, plus people that could talk about the issues of deforestation.
"So I put together a proposal because I wanted Fela to join my board of advisers, and also to come play at the festival. I put a leather-bound proposal together. It was in the winter, and I had a hat, a coat and a scarf, and I knocked on the door, and he said 'come in'.
"…The room was filled with pretty girls, and Fela and his speedos as usual. And I sat down next to him, and I gave him this proposal and he was leafing through the thing, and I was talking into his ear. I can't remember what I said, but I said something, he spun around and looked at me, and we both started laughing, and we just became friends in that instant."
Stein also shared details about his work with Fela, recounting how much of a visionary Fela was, and the influence he wielded around the country as a man who fought for the people. He also spoke of Fela's burial, detailing scenes from the burial day.
On the issue of Fela's post-death global status, Stein talked about detractors who credit his death for the growth of his music, and his influence. "That's a wicked thing to say,' Rikki replied.
He further talked about Fela's message and how much of it still remains relevant today, due to the unending ills of the society.
Watch the exclusive video above.
JOIN OUR PULSE COMMUNITY!
Recommended articles
Lady closely misses death while using loaded gun for TikTok video (watch)
ASUU might be de-registered as FG approves CONUA as academic union
5 kitchen ingredients that you can use for pink lips
Ex-Super Eagles and Barcelona star Amuneke makes Iheanacho his first signing in Zambia
Rafael Nadal speaks on complicated year after receiving award from Spanish king
For men: 5 places you shouldn't touch a woman during s*x
"We're paying for every slight error" - Inter boss Inzaghi cries out after losing to Mourinho-less Roma
S*x: How long should you wait before having another round?
Asa demands 300 million naira from Tempoe & Joeboy over copyright infringement