Ex governor ignores traffic light, crashes into another car
Yesterday, Godswill Akpabio's refusal to stick to traffic rules resulted in his hospitalisation.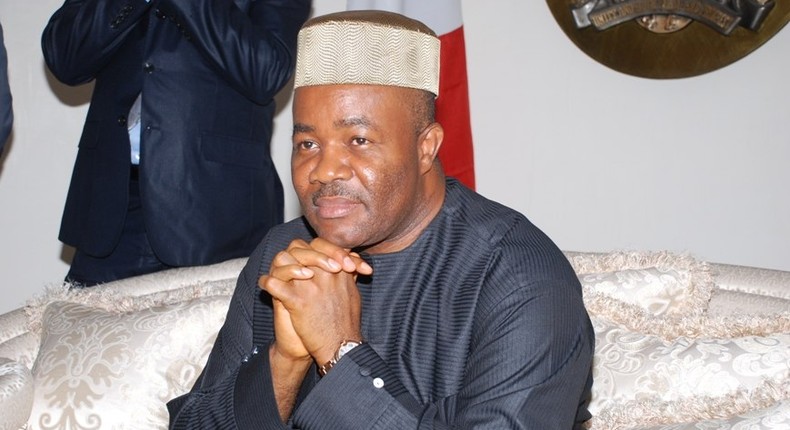 Yesterday, the 31st of August, 2015, Godswill Akpabio got hospitalised due to his disregard of traffic rules.
The former governor of Akwa Ibom state narrowly escaped death after his car crashed into another car
Here is how it all went down according to a witness.
"My wife and I were coming from the NNPC Mega Station and we stopped at the traffic light by Bolingo Hotel Junction. When the green light showed and we made to move, there was this siren blaring Mercedes Benz jeep that came from the town and almost crashed onto my car. I don't know how we dodged but another that was behind the jeep hit the car behind me and tumbled on its side. I and my wife rushed out of our vehicle and helped the driver bring out his boss. When we brought him out, we found that it was former governor . At the time we brought him out, the siren was still blaring. We put him in the other vehicle and he was rushed to the National Hospital."
Thankfully, the former governor has been discharged from the National Hospital, Abuja, despite his injuries.
Unfortunately, this incident proves that former and present government officials really do feel entitled and breaktraffic lawsat will.
Hopefully, we can all learn to not disobey traffic rules in order to prevent accidents, traffic jams, and casualties.
To avoid crashing into someone or getting involved in accidents, click on the link below.
JOIN OUR PULSE COMMUNITY!
Recommended articles
Police say no helicopter crash in Bauchi
Allah knows best - Buhari tells Zamfara people over cancelled visit
PDP lied on leaving $550bn economy - BMO
Buhari says he's overwhelmed by security situation in north-west
Buhari's proposed visit to Zamfara cancelled because of poor weather
Party primaries: Police intercept 12 more hoodlums in Ekiti
U.S. pledges to support Nigeria's fight against modern-day slavery
Father bags life sentence for defiling, impregnating teenage daughter
Gov Okowa says Dennis Osadebay University will commence academic activities next month