8 easy steps to a proper bicycle crunch
Does that high waist jean look awful on you? Do you wish you had flat tummy or toned thighs?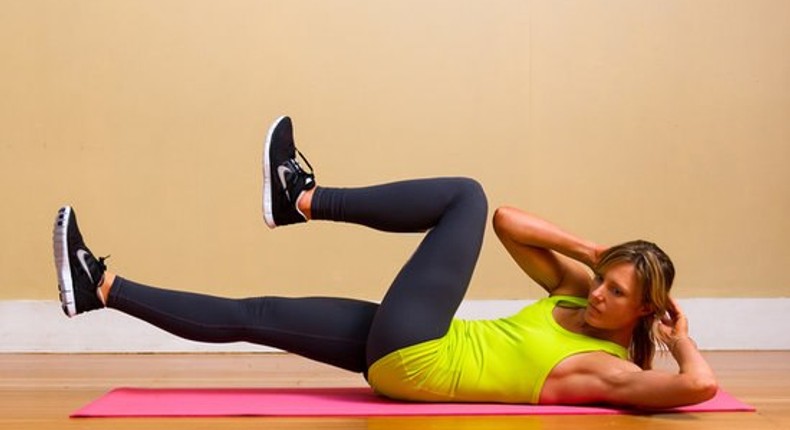 The Bicycle crunch is one of the most effective exercise for toning thighs and obtaining flat tummy.
The amazing thing is, it does not require any fitness equipment and it can be done at the comfort of your home.
8 steps to a proper bicycle crunch below;
1. Lie flat on the floor or on an exercise mat.
2. Breath deeply as you press your lower back into the ground.
3. Place your hands gently behind your head, with your fingertips just touching.
4. Very gently lift your neck, supporting it with your abdominal muscles and hands.
5. Lift your left leg into a 45-degree angle and your right knee into a 90-degree angle.
6. Bring your left elbow up to meet your right knee.
7. Return your right leg down to 45-degrees and lift the left knee into a 90-degree angle.
8. Repeat steps 4 and 5 with your left knee and right elbow.
Speed is not the name of the game here; go slowly to focus on your form and your breathing.
Also, it is not necessary to touch your elbows to your knees as this could cause strain in your neck.
JOIN OUR PULSE COMMUNITY!
Recommended articles
Yellow Dot CEO, Olubukola Bolarinde to celebrate African heritage in solo art exhibition
Meet the African tribe that offers s*x to guests
7 best foods to eat for more breast milk
Why is it difficult for men to forgive when women cheat?
Why women lie about their virginity in relationships
3 easy ways you can make money on Instagram
5 money talks to have with your partner before your wedding day
5 signs you're consuming too much salt
5 reasons why you should avoid boat rides in Lagos