How to prepare Egusi soup with tomatoes
Due to nutritional requirements and acquired taste, many have found their own unique ways of making some conventional dishes.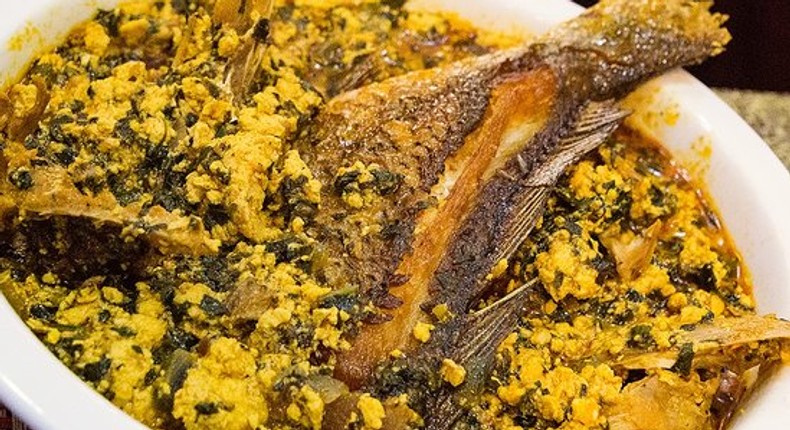 Check out how to prepare Egusi soup with tomatoes.
2 crayfish seasoning cube
3 medium sized plum tomatoes (blended)
2 cups of pumpkin leaves (ugu)
1 cup of water leaf (chopped)
1 hand full of uziza leaves (chopped)
1. Wash the pieces of dry fish and soak for a while till soft.
2. Mix the Egusi with the crayfish in some luke warm water to form a slightly thick paste.
3. Wash the goat meat and place in a pot with salt ata rodo, some chopped onions and seasoning cube. Pour some water over the meat and cook on medium heat till done. Set aside.
4. In another pot, heat the palm oil till hot and then add blended tomatoes. Fry for 10-15 minutes.
5. Pour in egusi and some meat stock and allow to cook for another 15 minutes, stirring at intervals.
6. Add the remaining peppers, seasoning cube, dry fish and goat meat. Stir and combine, Taste and adjust if necessary. Allow to simmer for another 20 minutes.
7. Add the pumpkin leaves and uziza leaves and leave to simmer for 5 minutes. Turn off heat.
Your egusi soup is ready! Serve with any swallow of your choice.
JOIN OUR PULSE COMMUNITY!
Recommended articles
10 young Nigerians talk about how parents, social media affect their mental health
Style Inspiration: 5 perfect vacation outfits inspired by Tiwa Savage
Natural Remedies: How to treat eczema with oatmeal baths
3 natural ways you can make your breasts bigger
Best pictures on Instagram this week
What should we do when our thoughts become flesh?
The easiest way to draw brows on with pencil
The 7 countries in North Africa
Here are 5 ways to best approach a church girl