Beer or spirits; which is the healthiest?
When it comes to alcoholic drinks, two of the most popular are spirits and beers, but which is the healthiest?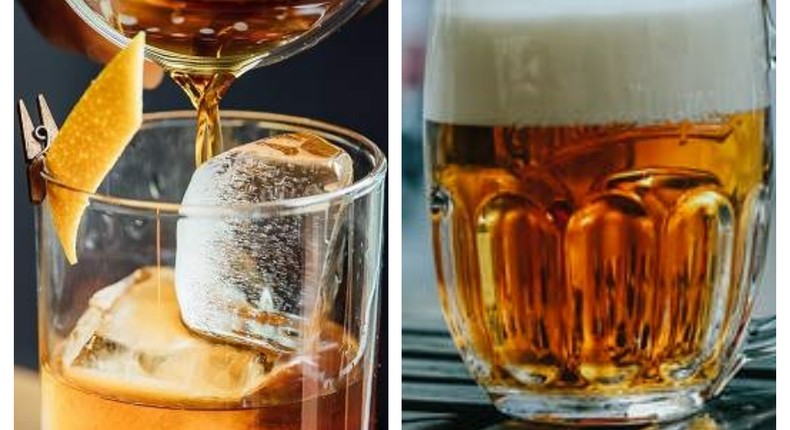 Spirits are often called liquor or hard liquors and include brands like Brandy, Vodka, Gin, Rum, and Tequila.
Beer is also a very common alcoholic drink made from fermented barley.
Depending on people's tastes, some people like spirits while others prefer beer. But when it comes to health concerns which should you be taking more?
Typically, a pint of beer would have about 5% alcohol, while spirits have about 35%-40% alcohol by volume.
With either one of these drinks, moderation is important not only to prevent future illnesses but to deter you from making risky life choices when drunk. Moderate drinking of alcohol should be one or two cups a day.
Beer, however, possesses some compounds and ingredients that make it healthy. Beer contains antioxidants known as phenolic compounds which helps to fight cancer.
Spirits, on the other hand, tend to have fewer carbohydrates, so if you are diabetic and looking to reduce your blood sugar, then spirits are helpful.
However, flavoured spirits contain carbohydrates.
Generally, alcohol contains ethanol. Ethanol helps to maintain a healthy heart. Moderate drinking of alcohol reduces the risks of developing heart disease or ischemic stroke.
If you have pre-existing health conditions like liver or pancreatic disease or there is a history of alcoholism in your family, or you are pregnant you should stay clear of drinking alcohol.
When it comes to drinking either of these drinks, your taste buds would determine which you would choose.
Spirit typically have this tangy taste and, it might seem like it burns. Most people reduce this by either taking shots or using it in cocktails.
However, no one should start drinking alcohol in excess because of its potential health benefits. Alcohol does more harm than good.
JOIN OUR PULSE COMMUNITY!
Recommended articles
Rating Enioluwa's 9 looks with red mschf boots
5 outfits for 5 days of work inspired by Olar Folami
Mother's Day: 5 women who lost their mums tell us what they miss about them
Mother's Day: 10 relatable things every Nigerian mother has said and done
40 best Mother's Day quotes of all time
Undergraduate scholarships at Aston University in UK
3 popular Nigerian foods that are difficult to prepare
Oro Festival: What to expect during this traditional Yoruba event
Buy any TECNO SPARK 10 series and enjoy massive discounts with unbeatable offers
6 indigenous Africans develop stroke every minute, every hour – Expert
5 cute natural hairstyles inspired by Sophie Alakija
Asotiayè: An indigenous brand committed to sustainable fashion for the modern African woman [Pulse Interview]
Fraser-Pryce and Omanyala confirmed for Botswana Golden Grand Prix
Arsenal pile further misery on rudderless Eagles with comfortable win
Osimhen matches ex-Barcelona star Eto'o's Serie A record
Indian Wells - Who will be crowned king of the desert for the first time?
El Clasico Exclusive – David Villa: No regrets joining Barcelona over Real Madrid
Transfers Gossip: Salah's agent denies Spain rumours as PSG line-up outrageous bid for Napoli star