80-yr-old man dies in house fire
An aged man, Godwin Oyia, has been killed in a fire caused by an electric boiling ring in his home at the Surulere area of Lagos State.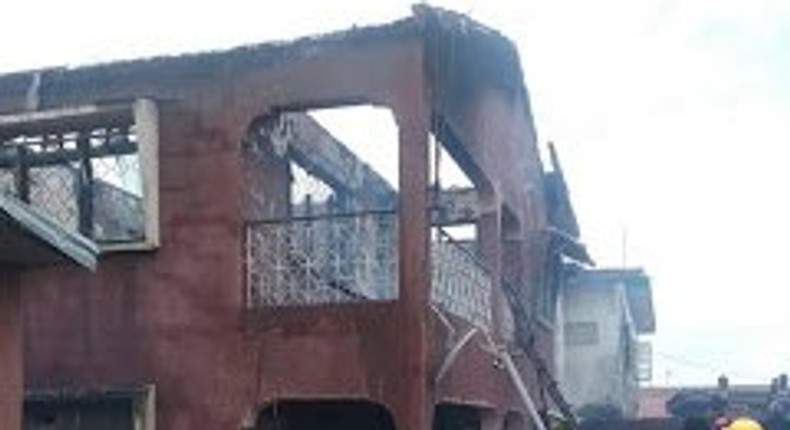 An 80-year-old man has reportedly perished in a house fire caused by an immersion water heater (boiling ring).
The victim, Godwin Oyia, was killed at about 10:40am today, after being trapped in his home at No 5 Aborishade close, Lawanson, Surulere.
Investigations carried into the case by the Agency's emergency response team at the scene of the incident revealed that a boiling ring being used in the last room on the top floor of the house led to the fire which quickly engulfed the whole building, according to the Lagos State Emergency Management Agency (LASEMA).
Sadly, Oyia was burnt to death in the room where the fire had started.
Although the whole of the top floor of the building was completely torched, the lower floors were salvaged by the combined efforts of LASEMA, Red cross, the Lagos State Fire Service and Itire division of the Police Force. Oyia's corpse has since been recovered and handed over to the Police.
The General Manager LASEMA, Mr Michael Akindele, disclosed that proper investigation was to be conducted on the incident while advising Lagosians to ensure safety at all times by switching off all electrical appliances when they are not in use at their homes or offices.
JOIN OUR PULSE COMMUNITY!
Recommended articles
Meet the Sapeurs, Congolese who wear expensive outfits though they live in poor communities
Nigeria's currency hits a new record low on the official market
Top 10 African cities with the highest purchasing power
Aliko Dangote announces refinery license to process 300,000 barrels of Nigerian crude daily
10 African countries with the highest fertility rate in 2023
Top 10 African countries leading in attracting and retaining talents
Top 10 African cities with the most expensive real estate
7 reasons women don't get wet even when aroused
4 African countries are responsible for 70% of the chocolate in the world