Family disgraced for stealing pot of soup in Abuja
Serious hunger has pushed a man to steal a pot of soup so that his starving children can have something to eat.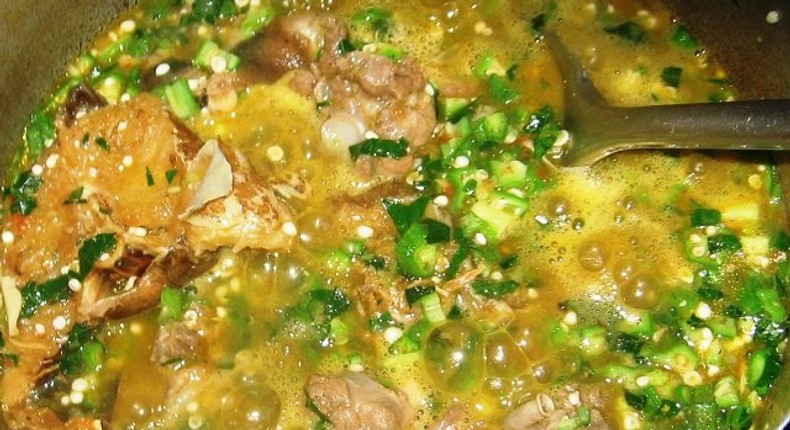 It was a show of shame as a man and his two children were nabbed after they allegedly
According to eyewitnesses, the incident which happened along Mashafa road in the area, threw everyone in shock after the owner of the stolen soup identified only as Femi, was stunned to find out that the steaming pot of soup he had left on the fire had gone missing after he stepped into his house to get some salt.
He decided to go round some of his neighbour's apartments to see if anyone of them had seen who took his soup, only to find the man and his children eating the Ogbobo soup.
Narrating what he saw, Femi said he was too stunned to say a word at first but watched as the family ate the soup with they must have brought along with them.
"I was cooking in the compound and went into the room to get salt; that was when they took the pot of soup and before I could ask, they were already eating the soup with their akpu.
I was even touched after the father apologised, saying they were hungry and had nothing to eat."
"I had no choice than to leave them with it, but they should not have taken everything. The thing pained me seriously because I am also managing and had to look for the money for that soup and they just took everything.
I only told them to return the pot after they had helped themselves with its content."
JOIN OUR PULSE COMMUNITY!
Recommended articles
Africa's richest woman Isabel Dos Santos finds herself deep in another financial scandal
BREAKING: No more fuel subsidy - President Tinubu
Buhari confers national honours on Emefiele, Remi Tinubu, Terry Waya, others
Top 5 Nigerian chefs with the best Instagram content
FULL TEXT: Inaugural speech of President Bola Ahmed Tinubu
Net worths of Africa's richest people in the top 500
Top 10 richest mineral-producing countries in Africa
Veteran Nollywood actor Adewale Adeyemo is dead
Top 10 African cities where it is most expensive to get food