Embattled preacher's wife blasts Stephanie Otobo (Video)
The wife of the embattled Apostle Johnson Suleman who is in the eye of the storm following a nasty sex scandal has come out in support of her husband.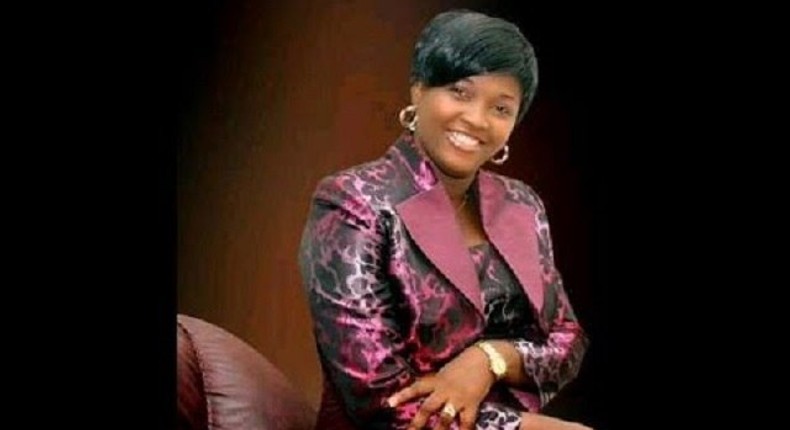 The wife of the embattled General Overseer of the Omega Fire Ministries Worldwide,
The sex scandal which is about the most talked about item in the Nigerian media in the past few days since it broke, has been dividing opinion with many tending to believe the allegations of Otobo who backed up her accusations with screenshot photos of the Apostle whom she described as a sex addict who got her pregnant and abandoned her after promising to marry her.
However, Apostle Suleman's wife has come out in support of her husband by saying the photos were manipulated and that Nigerians are gullible to believe such lies from Otobo who has slammed a N500 million lawsuit on the man of God.
Speaking in an eight-minute video, Mrs. Suleman denied that her husband is adulterous, voicing out strongly that the so-called photos are the handiwork of a clever photoshopper.
Amongst other things, Dr. Lizzy said:
"My name is , the wife of Apostle Johnson Suleman. Now ordinarily, I don't like media appearances but for the purposes of clarity, I will have to speak.
Now, I have known my husband I have known my husband for the past 19 years and if you are living with a man who is a promiscuous or adulterous person, you will know especially if you are an intelligent and a smart woman.
I have to speak because I want to now appear like it's a woman to woman talk. I have heard all sorts of rubbish and nonsense that this woman has been saying that has gone viral on the Internet. That is not my husband.
Let me quickly say this: for 19 years, I have been with my husband all through the years of courtship and marriage and I have never had any problems whatsoever, over a woman.
We have never had any issues with a woman and then you can just imagine. And listen, for all the pictures that have been released, you can as well release more pictures but mind you, it can never and will never stop the real picture of my husband in my heart.
Of course, you can see that the pictures released are photoshopped. And by the grace of God, I am a journalist, a trained Mass Communicator and anybody who is good at graphics and photography should understand what I am talking about.
These pictures are fake; they are fake pictures.
The issue with most Nigerians is that they are so gullible and they believe everything. That is not my husband. If you are good at photography and graphics like I said, take a closer look at the photos; they are all planned out and they are all fake."
However, Otobo has vowed to expose more of the atrocities of Apostle Suleman including some graphic pictures of them in uncompromising positions to support her claims that the man is not as holy as many think he is.
JOIN OUR PULSE COMMUNITY!
Recommended articles
Inside the most expensive school in Ghana where kindergarten costs GHc176K a year
Top 10 African countries with the most expensive gas prices in 2022
When and where to watch Super Eagles of Nigeria vs São Tomé and Príncipe
Atiku group fires back as Obasanjo admits mistake in picking running mate
BREAKING: INEC confirms Machina, denies Lawan Yobe North senatorial seat
Owo massacre: Amotekun arrests suspects in connection with church attack
APC Chairman Adamu announces Ahmed Lawan as consensus candidate
Here are 5 African countries with the best roads
Former beauty queen Precious Chikwendu and her estranged hubby Femi Fani-Kayode reunite after 2 years of rift