"It takes tithing to qualify for God's blessings", Pastor says
A new video of Bishop David Oyedepo has surfaced in which he discusses tithing, God's blessings and more.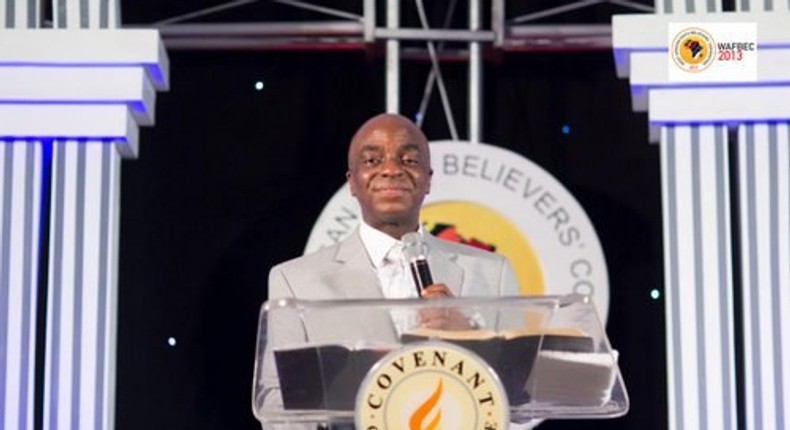 Bishop David Oyedepo has revealed his thoughts on tithing, and the qualifications for Gods blessings.
In a new video posted on an Instagram account called @famousblogng, the founder of the Living Faith Church Worldwide says that tithing qualifies a believer for God's blessing.
He says, "Everybody believes that God has an open Heaven order of blessings for His people. But you see it takes your tithing to qualify for it. So, if you only know the promise but you don't know the condition, you will die frustrated."
In an attempt to prove his point, Oyedepo goes on to add that all promises come with demands.
In his words, "Now Christ has redeemed us from the curse of sin, from poverty, from death, but what does it take to get there, it takes faith in the demands. People just believe the promise but you need to believe the demands. It is believing the demands that entitles you to the fulfilment of the promise. There is no provision in the Scriptures without conditions attached. Even salvation as free as it is, you need to repent before you can be saved. There is nothing provided for without conditions to meet."
This message with received mixed feelings. While there are supporters of these statements, there are others who disagree strongly.
Popular OAP and critic, Daddy Freeze, falls into this second category.
In an Instagram post, he says, "This is absolutely not true! the richest man on earth doesn't pay tithe, , the youngest billionaire on the top 10 doesn't pay tithe, the richest man in Africa is while , the foremost and most successful Nigerian blogger doesn't believe in or pay tithe.Please be careful what you let these men teach you. Jesus only mentioned tithe once in the bible, in passing, and he never linked it with success or salvation. Jesus, the head of the church never collected tithe and his disciples, our first pastors didn't collect tithe either.According to historical records the first church set up by the disciples didn't collect tithe, and tithe was not collected by any church for 600 years after the death of Christ."
This reaction has gotten over 100 comments.
Fun Fact: Most Catholic churches do not collect tithes. Does that mean Catholics do qualify for God's blessings?
JOIN OUR PULSE COMMUNITY!
Recommended articles
Despite $3 billion bailout, Ghana has essentially gone bankrupt
Why guests had to squeeze between 2 naked models to enter an art show
Davido, Zlatan, Falz, others attend Mohbad's candlelight procession in Lagos
Tinubu approves salary increase for Federal Tertiary Institutions
Mohbad's sympathisers dispersed with teargas at Lekki tollgate after procession
4 highlights from Thursday's pool party on 'BBNaija All Stars'
My marriage is sweeter than what you see online - Regina Daniels
Burna Boy shows love to Ghanaian market women dancing to his song [VIDEO]
Stop asking for a DNA test - Mary Njoku defends Mohbad's widow Omowumi