Can someone please stop House of Maliq?
Apart from easily churning out the worst magazine covers overtime, House of Maliq has conveniently nestled herself as creatively unappealing and loud for nothing.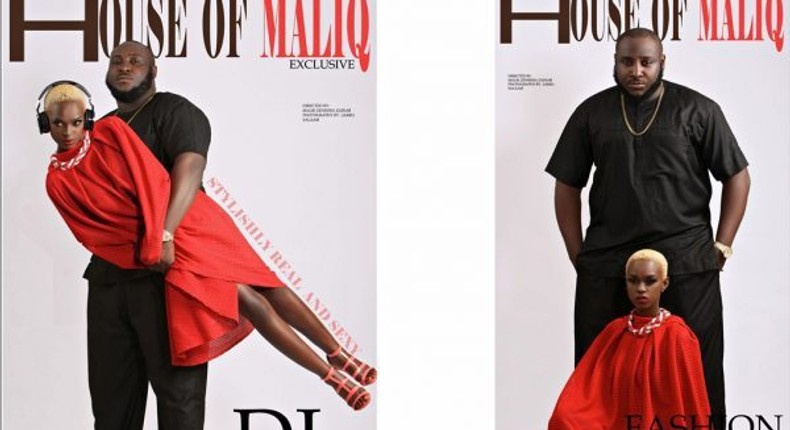 Apart from easily churning out the worst magazine covers overtime,
The magazine has a habit of 'dropping' extremely loud and endless photos of cover stars turning normal looking people into unpleasant images that scream distasteful, constantly harassing everyone's viewing pleasure with a barage of poorly styled shoots!
First the covers reveal the lack of creativity, non access to a stylist and a lack of sense of direction leaving whoever is in charge swimming in a colourful ocean of nought.
Maybe -playing a devil's advocate - the magazine has set an 'Avant Garde' theme (hurts me to use this word for HOM) but at the very least there should be a careful interpretation (or they are trying to keep rousing attention by disrupting to always be in the news because there seems to be no explanation for the laughable covers the magazine or webazine- who knows- come out with every single time).
To start with, the magazine covers are released as often as the publication feels the need to shoot, for April there were two covers and before now different editions have been released whenever with the most-painful-to-look-at images splattered everywhere on social media laying claims on daring to be different (lol).
As if the one with Kaffy holding a sick looking chicken wasn't enough there was the cringe worthy cover with Tania Omotayo 'carrying a roach' and then DJ Big-N swinging a model and then the one with Olajumoke wearing an ill fitting bloated blouse that makes her look ridiculous (who directs these things honestly) and the horrific covers go on.
Note that till date Olajumoke Orisaguna breadseller turned model has been photographed perfectly until House of Maliq laid their hands on her!
Notoriously turning normal and good looking people into drags, this styling charade has to stop it hurts everyone's eyes!
While everyone is allowed to be as creative as possible and interpret in ways they deem fit at least a percentage has to agree with whatever 'angle' you are creating from but so far the next cover trumps the next with the lack of depth and interpretation, how one person has that amount of lack of depth is dazzling.
If you want to mimic creativity at least do it well!
Dear House of Maliq, it's as simple as hiring a stylist, makeup artist and a creative director at least for the cover shoot, that would solve the issues enough with the laughable covers, honestly stop! (and NEVER call that a luxury publication EVER)
JOIN OUR PULSE COMMUNITY!
Recommended articles
Bikiya Graham-Douglas continues to promote African Arts & Culture with Beeta Arts Festival (BAF)
Spices, Stories and Surprises: Detailed look at vibrant African Food & Drinks Festival Abuja
What is a Jacob's ladder piercing? It's pretty extreme
3 ways to get rid of vaginal odour
Ladies, here are 5 sexual mistakes men need you to stop making
How to get your crush without shooting your shot
5 common mistakes Lagosians make during Detty December
How to survive Detty December in Lagos
4 reasons locked hair grows longer and stronger than normal hair
Sleep Apnea: 10 reasons you suddenly wake up unable to breathe
If you want the relationship to work don't tell your partner these 4 things
5 signs you are in a healthy relationship and you might have found the one
Shelly-Ann Fraser-Pryce: Track legend signs mouthwatering deal with luxurious wristwatch brand
Sha'Carri Richardson: World's fastest woman reportedly bags $20,000,000 endorsement deal
She needs a break - Super Falcons coach explains Ashleigh Plumptre's absence from team
Sergio Ramos makes Champions League history 31 years after Daniel Amokachi
Thiago Silva recalls TB fright ahead of Chelsea debut