Fashion Police: Here's what we think about Chioma Good Hair's birthday shoot
Chioma Good Hair's birthday shoot is a simple guide on how to look extraterrestrial.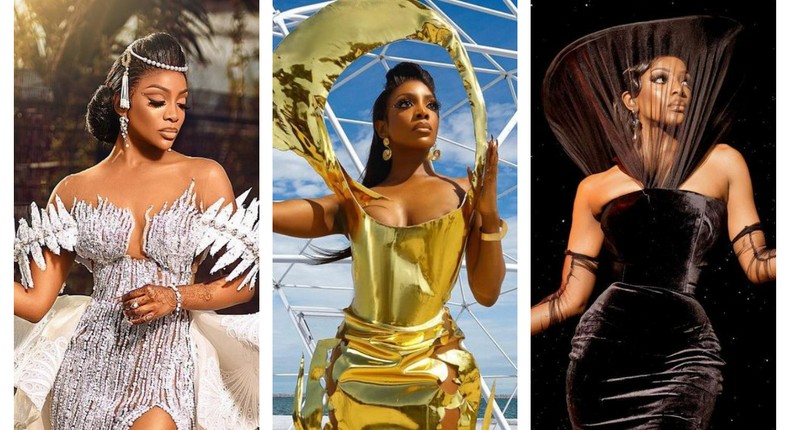 With the success of Real Housewives of Lagos, Chioma "Ikokwu" Good Hair is basking in euphoria .
For her birthday, she took seven pictures in seven different outfits, and the theme of the shoot must have been, 'out of this world'.
Look 1
For this first look, Chioma looks like melting gold that is somehow on fire.
The designer of this masterpiece is Weizhhurm Franklyn, known for artistic designs and expressions, we need to give him his flowers for an exceptional work done.
Quick question, did he use actual metal?
Look 2
If the first look was gold, the theme of the next look is silver. Channelling the moon goddess, Chioma sought the help of Erica Moore Brand to create this breast-plated gown. The creativity put into it is simply mind-blowing.
Look 3
Sitting on a white horse with the dark skylight as a background, Chioma channelled her inner Beyonce or did Beyonce channel Chioma? Either way, that hat was certainly giving!
Look 4
What's a birthday photoshoot without a beach photo? Chioma wore a gown that mirrored the waves. A1+ for creativity.
Look 5
Certainly Bridal inspiration, Xtrabrides Lagos did a number on this one, and we found ourselves staring at the shoes - lovely shoes!
Of course, all these looks won't be possible without the photographer - Felix Crown, who captured these beautiful pictures.
JOIN OUR PULSE COMMUNITY!
Recommended articles
5 celebrities wearing similar outfits, who wore it better?
Bedroom game: Reasons carrots are essential for men's sexual health
Chaotic life of an HR: Goodbyes are hard (Ep.54)
The best sex position for different zodiac signs
Chaotic life of an HR: The aftermath is looming (Ep.53)
Natural foods to help you last longer in bed
Mercy Chinwo: The portrait of a modest bride
Ladies: Here are 5 types of vaginal discharge and what they mean
The health benefits of bitter leaf are impressive