Dickson condemned for establishing new varsity
ASUU has faulted Seriake Dickson's decision to establish a private university which was named 'African International University.'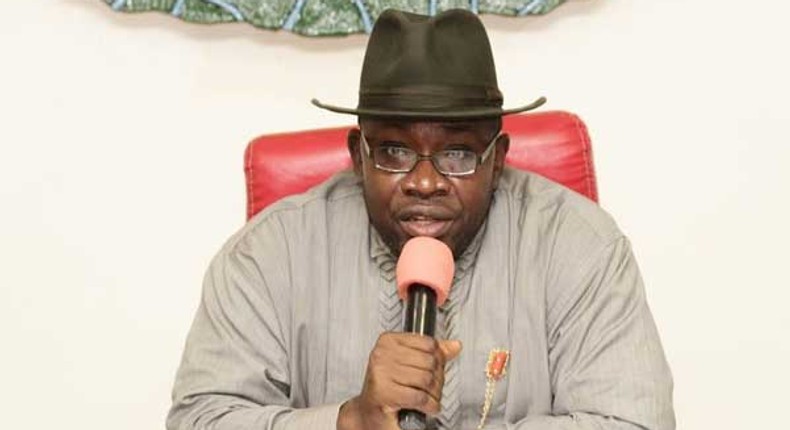 The Academic Staff Union of Universities (ASUU), on July 23, criticized the
ASUU, attacked the governor for abandoning the state-owned Niger Delta University (NDU) and lamented the months of unpaid salaries of lecturers and underfunding of NDU.
Dickson was also accused of a deliberate intent to "kill" the state-owned university because of his new university.
This was disclosed at the NDU chapter of ASUU, during a press conference.
The Chairman, ASUU, NDU chapter, Dr. Stanley Ogoun said the passage of the bill to establish AIU was a calculated move to destroy the state-owned institution.
He said Dickson used the House of Assembly to speedily make law without public hearing on the new university to quickly procure a license from the National University Commission (NUC) through the backdoor.
He said: "The first poser is the issue of timing. Is this an auspicious time for a policy thrust like this, considering the state government's failure to pay salaries spanning into several months?
"Who truly owns this African University (who are the private promoters)? Why is the Governor of Bayelsa State, the Visitor to a supposed private-sector driven university?  Why are the supposed 'investors' faceless?
"What is the percentage of equity holding by the Bayelsa State Government and that of the supposed 'investors' in the PPP arrangement?
"We know that all universities are established by a single law, and therefore, if the African University is private sector driven (which implies a private sector majority shareholding), why should it be the responsibility of the Bayelsa State House of Assembly to pass the law (legal instrument) setting up the university? Why must a private sector led company be established by a Bayelsa State Government law?"
He called on all Bayelsans, the Ijaw nation and the general public to be vigilant and kick against any fraudulent intent that would enslave the masses.
JOIN OUR PULSE COMMUNITY!
Recommended articles
Rick Ross declares interest in Ayra Starr
Nigerian actor Hawwal Ogungbadero, 29 others set Guinness World Record for longest recording session
Nigerians express concern over immediate implementation of subsidy removal
10 African countries with the lowest digital quality of life index
Study shows men have been peeing wrong; they ought to sit and not stand
Shaffy Bello opens up about her split from husband after 25-year marriage
Fuel prices will go down after removal of subsidy, says NNPC CEO Kyari
Nigerians react as Tinubu's daughter declares self as Iyaloja General of Nigeria
Veteran Nollywood actor Adewale Adeyemo is dead