10 deadly sins by Lords Chosen's Senior Pastor
Pastor Mouka says wearing make up, bangle or attachment, doing jerry coil and saying Naija instead of Nigeria are all sins.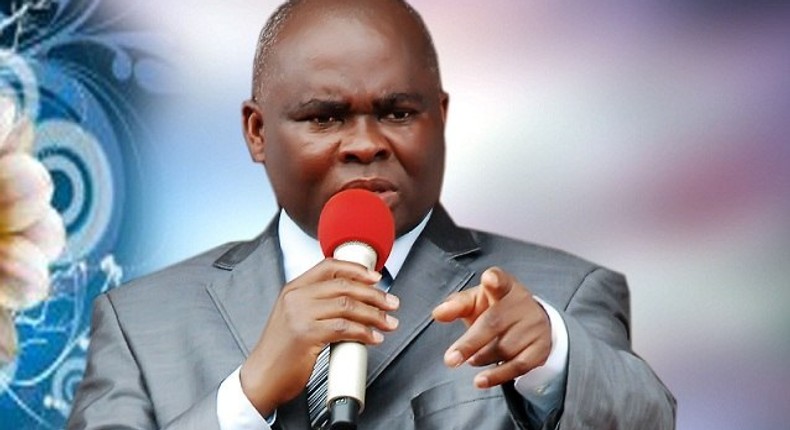 Lazarus Mouka of the Lords Chosen Charismatic Church has released a list of terrible sins that God hates.
Speaking at the international crusade titled; 'From Sorrow to Joy" held at his church's headquarters, the Senior Pastor urged Christians to abstain from them.
The terrible sins include;
1. Wearing makeup, attachment or bangles: "I want to tell you you don't need extra eye, make up or bangle or attachment at all," he said.
2. Flaunting skin: In his words, "You don't need to dress and show your nakedness, your ass, your chest, your armpit, your tummy, your waist, your lap….that is sin. Cover your body properly."
3. Saying naija instead of Nigeria: He said, "And if you are a young man and you are doing jerry coil and you make your hair like a woman, use some funny language…and when they ask you where are you from and you say Naija instead of Nigeria. Something is wrong with you. The bible tells us that the unrighteous shall not inherit the kingdom of God. "
4. Wearing trousers and female clothings: "If you are a woman wearing trousers that's a sin. If you are a man wearing skirt and blouse, that's an abomination," he said.
5. Visiting native doctors: He said, "going to native doctors to make charms or being a native doctor is a terrible sin."
6. Occultic practices: "Belonging to secret cults, open cults or marine cults, witchcraft cults, all of them are terrible sins. Renounce them and give your life to Jesus Christ. "I want to remind you, if you are into such kind of occultism, you will be working for satan and suffering. If you are into occultism, give your life to Jesus and the Lord will save you and grant you victory in JESUS name," he said.
7. Robbery: In his words, "All those that are stealing, picking pockets, one chance, armed robbery, breaking into homes and carting away with people's belongings, that is a life of wickedness. It is a terrible sin."
8. Internet fraud:"If you are still a fraudster or into Internet fraud, don't give your money in this church, we don't need it at all. Amend your ways and promise God that you will do them no more," he stated.
9. Sexual relations: He said, "Take note, if you are involved in fornication, adultery or masturbation, these are terrible sins which give the devil the legal right to torment you, afflict you, put you in perpetual sorrow. Or maybe you are involved in homosexuality, lesbianism or into kidnapping, murder, ritual, amend your ways. The bible says there's no peace in the Lord with the wicked."
10. Terrorism: The pastor said, "If you are a terrorist, we don't need your money in this church at all. Amend you ways."
Others include: "Or you are among those who are disobedient to their husbands, or fighting your husband, that is a terrible sin. Those who are experts in taking and giving bribes, or force money from people, that is sin. Or maybe you are involved in smuggling, smoking, alcoholic drinks, whether you are drinking it or selling to people or serving people, you must repent and not drink it, not sell it to people, not work in breweries and not work in any hotel where such things take place. Unbelief is sin, unforgiveness is sin, so is selfishness, anger, hatred, lie, pride, envy, covetousness, blasphemy, bearing grudge, speaking evil of other people, backbiting, gossiping, disobedience, all these are terrible sins," he added.
Pastor Mouka also reminded the congregation of God's love saying, "Search your life, repent of your sin and God will show you mercy. God loves you. It is not the will of God that any soul should perish."
JOIN OUR PULSE COMMUNITY!
Recommended articles
Inside the most expensive school in Ghana where kindergarten costs GHc176K a year
Wizkid and Tems among winners at 2022 BET Awards: See the complete list of winners
Wizkid records historic win at the 2022 BET Awards
Justice Tanko Muhammad resigns as CJN
Top 10 African countries with the most expensive gas prices in 2022
'90+34 mins?' - Nigerians react as controversial NPFL game between Katsina United, Remo end 3-2
5 things you should never do to please a woman
When and where to watch Super Eagles of Nigeria vs São Tomé and Príncipe
Pulse List: 5 celebrity relationships that never made it to the altar