Getting married soon?You should consider these things before picking your Aso-Ebi
Aso-Ebi is a must-have in every Nigerian wedding, and it doesn't look like it's going away any time soon.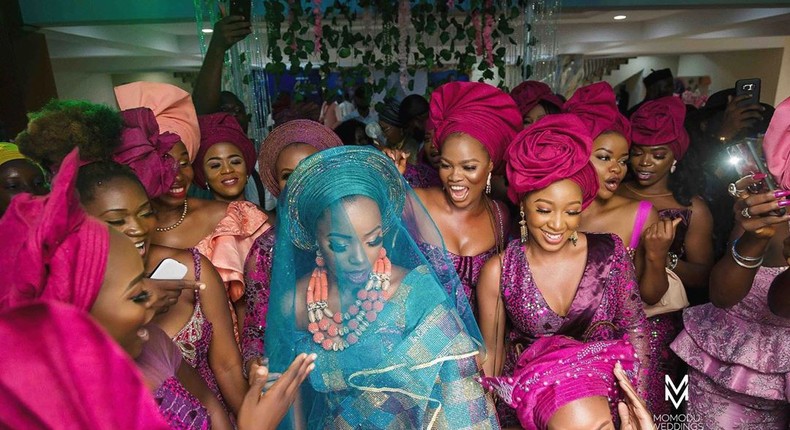 Regardless of tribe or religion, the importance of Aso-Ebi to the average Nigerian socialite can't be overemphasized.
Every bride or wedding guest hopes to slay, but the color of the fabric can make or mar that agenda. This is why every bride needs to be updated with the trends so, all your guests can come in with an amazing look.
Therefore, choosing the best Aso-Ebi design/fabric for your event is very important as you don't want anyone at your wedding to be badly dressed. There are things needed to be considered when choosing an Aso-Ebi for your 'big day'.
The theme of your wedding determines the way everyone looks that day. You need to consider the theme when picking your Aso-Ebi. Ensure that you're sure of the availability of a particular color in the market before choosing it as your wedding theme.
After deciding on the theme, you need to pick a color that works with the theme of your wedding. You also need to consider the trend when picking a color. There are colors in vogue, there are some that shouldn't be worn during certain seasons. Therefore, you have to know the colors that blend and match your style. Try not to insert too many colors into your Aso-Ebi combination. You should probably leave it at a maximum of three.
This is a very key factor when choosing Aso-Ebi for your big day. Your culture and ethnic group will determine the nature of Aso-Ebi to choose. You can consult an elder in your family to give good advice on the right materials to choose from. Or better still get a stylist that would help with picking the right fabric that relates to your tradition.
Aso -Ebi for wedding Branded Girls
To make your wedding rich and spectacular, choose a fabric that the guests will appreciate and value. Try as much as possible to present your well-wishers with something that will stand the test of time with reasonable consideration given to the price of what they've purchased. Nobody will buy your Aso-Ebi if it's quality is nothing to write about. Hence, opt for quality!
The most expensive fabrics are often claimed to be of the best quality, but the possibility of getting swindled often exists. Getting value for your money is a matter of knowing good quality fabric or getting your fabric from a reliable source. You wouldn't want to get a cheap fabric that no one would want to have in their wardrobe, neither would you want to get high-priced materials that most attendees can't afford. Set your standard, as this still remains your wedding and no one else's, but be considerate.
JOIN OUR PULSE COMMUNITY!
Recommended articles
Did you know some men find it hard to ejaculate? Here's why that happens
5 millennials talk about what they miss about being kids
Badagry Slave Route: Slaves passed these 5 notable stops on their journey of no return
Exclusive dinner or luxurious spa date for you – Match and Go!
3 celebrity looks inspired by Rihanna's pregnancy fashion
Check out StarTimes 2022 price and never-to-miss shows
5 African dishes to celebrate Africa Day 2022
5 most fashionable ways to wear palazzo pants
5 people that can ruin your relationship