Health benefits of Ube (African or bush pear)
This specie of pear is mostly found in Africa. It is most commonly eaten with corn.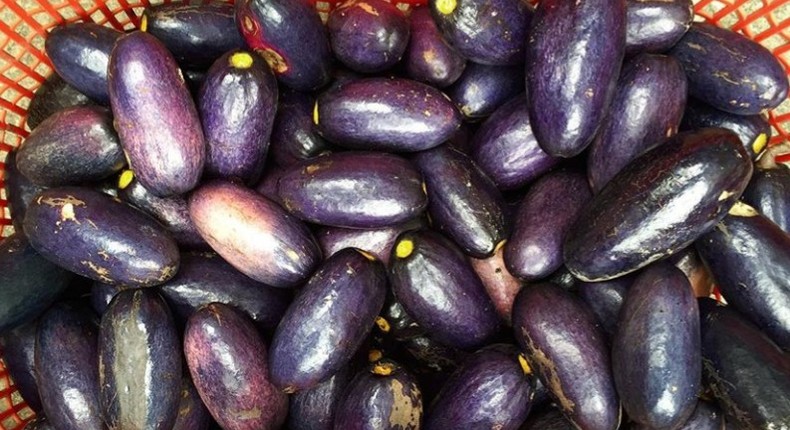 Popularly known as Ube in South Eastern Nigeria, this fruit has a variety of health benefits.
Among its many nutrients are carbohydrates, sugars, fibre, vitamins such as thiamine, pantothenate, folate, vitamin C and B6, niacin and riboflavin. It also contains antioxidants and minerals.
1. Helps in increasing skin health
Because Ube is rich in Vitamin C, it is a strong antioxidant and a dietary supplement that can prevent scurvy and keep the skin glowing.
2. Helps in healthy bowel movement
This fruit is rich in fiber and helps prevent constipation and also ensures regularity of bowel movement. It adds bulk to the stool which makes the process of passing stool easier.
3. High in calcium and used for toothpaste
Bush pear is has a lot of antimicrobial properties. The antimicrobes keep bacteria that are responsible for mouth odour and tooth decay away. Its high concentration of calcium and phosphorus makes it a good supplement for the development and maintenance of healthy bones and teeth.
4. Used by local doctors
The green paste of the pear is used by traditional doctors to treat open faced wounds. Ring worms, skin rashes, and other parasitic wounds are cured using Ube.
JOIN OUR PULSE COMMUNITY!
Recommended articles
7 ways celebrities can make fashion statements without eccentric outfits
CHI Limited set to hold 2nd annual Hollandia Dairy Day Celebration
5 things to know about law that says men must marry 2 or more wives
Here are 5 things no one tells you about sleeping with your bestie
All friends of Enioluwa are friends of Crocs
Here are questions to ask yourself before sleeping with a close friend
Do's and Don'ts: How should you wash your vagina?
Sperm- killers, here are 7 things that men need to watch out for
5 tips for planning the perfect baecation