5 Kitchen hacks everyone should know
Hacks are created to make life easier and better for us as humans, and as such, cooking, and kitchen hacks are invented to make activities in the kitchen easier to handle.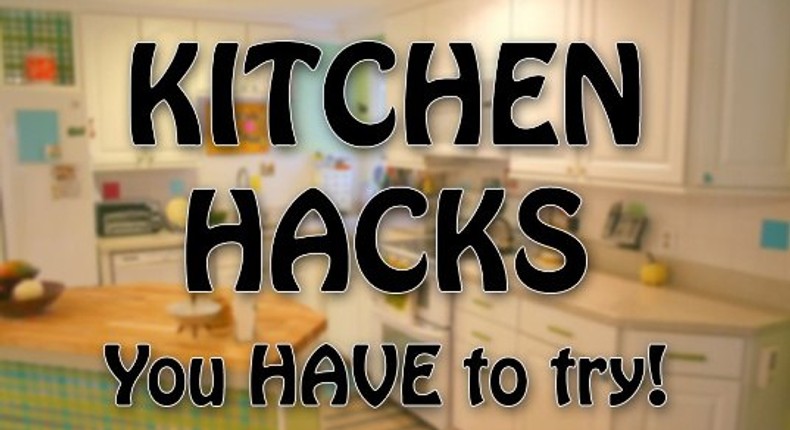 Here are some kitchen life hacks you should know.
1. Increased fruit ripening
If you have unripe plantains and want to hasten the ripening, you can put the bunch of plantain in a nylon bag; this contains ethylene gas that can help speed up ripening.
2. Removing eggshell fragment
Do you always find it frustrating to remove pieces of eggshells after you break eggs into a bowl? One hack that has worked well over time is wetting the tip of your fingers and scooping out the eggshell out; it works like magic.
3. Stopping pots from boiling over
Whenever you cook rice or spaghetti, the boiling water always runs over; one way to prevent this is by placing a wooden spoon across the top of the pot. The wooden spoon could also be the turning stick used in making swallow; wood is a poor conductor of heat, and as such, it stops the spillover.
4. Preventing crying over onions
One tested and trusted hack to prevent irritations when cutting onions is to keep your onions in the fridge or freezer 15 minutes before cutting or let them rest in ice-cold water. It is believed that the cold reduces the amount of chemicals oozed out during onion cutting.
One way to know if an egg is edible or has gone bad is by dropping it in a bowl of water; if it sinks, it is edible; if it floats, it has gone bad.
Adding these hacks to your daily kitchen activities will make your life easier, and you can always pass these hacks down to family members, friends, and anyone who cares to know.
JOIN OUR PULSE COMMUNITY!
Recommended articles
Fancy Acholonu Nigerian-American model & entrepreneur launches new fragrance line, Simply Fancy
3 reasons you need to start wearing lingerie
9 foods that make your child smart
3 overnight tricks to flatten your bloated stomach
Who wore it better? Nengi Hampson's recreation, or the original outfit on Didi Stone?
Top 5 Nigerian chefs with the best Instagram content
itel celebrates Children's Day 2023 with over 1,000 children In Abuja
What kind of parents are millennials? 5 ways they differ from their own parents
This week's best celebrity pictures on Instagram
Orijin launches 'Deeply Rooted' campaign championing transformative power of Naija roots
5 things adults miss about Children's Day
5 African countries where snow falls