72-yr-old woman cries out after Visa is denied 27-yr-old hubby
A 72-year-old British grandmother who got married to a 27-year-old Nigerian man is not happy he has been denied visa several times to travel.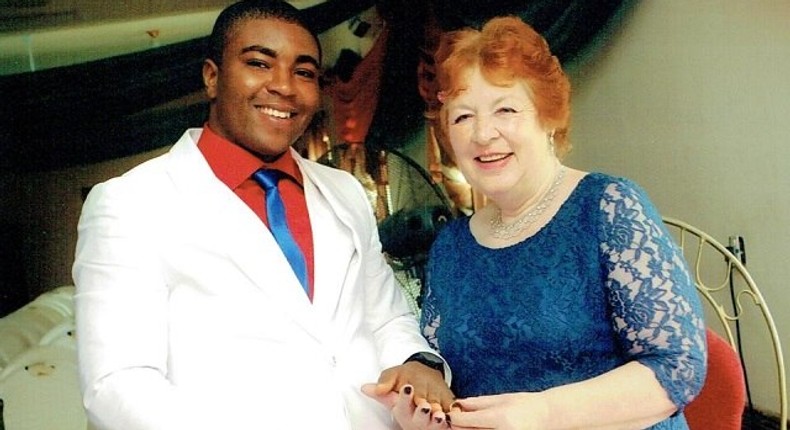 A 72-year-old grandmother of six,
The Sun UK reports that the love struck Angela who met CJ on Facebook and flew down to Nigeria to get married to him after only three months, has not been herself after spending over £20,000 of her life savings trying to get CJ to the UK.
Anglea, a retired taxi driver, had reportedly met CJ, 45 years her junior, on the social media and after dating for three months, she flew down to Nigeria where they got married at a registry in Lagos but since then, it has been impossible for him to move over to be with her.
The heartbroken Angela, a pensioner from Dorchester, Dorset, told the Sun UK:
"CJ is the most caring man any woman could want to be with. He makes me feel like the most beautiful woman in the world.
I know in my heart we belong together and we won't stop fighting until we can be together as husband and wife. We won't let this break us.
After the wedding, I found it hard leaving CJ. I knew I'd see him again soon but my family visa application was rejected.
I was so determined to get him a visa I hired lawyers to fight for us. I've since visited him twice.
We've spent a combined £20,000 trying to see each other. I've used my savings and he has gradually paid me back half."
Angela said she had been single for six months following a 16-year relationship when she was contacted out of the blue by CJ.
"After my relationship ended, I felt lonely. We had become more like friends than partners, so we had decided to split.
After being single for six months, I saw a gorgeous young man had sent me a friend request on Facebook.
I did wonder why he had added me but I accepted and he sent me a message telling me how lovely my profile photo was.
He was so handsome, with big, brown eyes and a body to match. I didn't see the harm in striking up a conversation with him.
We chatted for hours about our families and hobbies. It was like we'd known each other for years. Before I knew it, we were messaging daily.
The only problem was he was 45 years younger and lived 4,000 miles away in Nigeria."
Angela said she knew the age gap might be frowned upon by her children, with the oldest grandchild being six years older than CJ but that she could not help falling for the Owerri, Imo State-born Computer Engineer.
Angela, who has sons aged 50, 47 and 43, continued:
"Despite our huge age gap, we got on really well. I couldn't help it and began to develop feelings for him. I tried to stop myself.
He was six years younger than my oldest grandchild. But I couldn't help falling for him. When I first told my son, , about CJ, he was worried it might be a scam, so he checked him out online.
After seeing how squeaky-clean his social media was, he felt he was genuine. They could all see how happy I was.
We started chatting on Skype and I'd get butterflies when I saw his face on the computer. After a few weeks, CJ told me he had feelings for me. I was so happy."
It took the sharp CJ just a month before proposing to Angela via Skype and she accepted immediately.
"I was so taken aback when he asked me to marry him. I thought he was joking. But he told me he wanted to spend the rest of his life with me.
Of course, I said yes. He was beaming at me with such a big smile on his face. Knowing I made him that happy was all the reassurance I needed. There was such an amazing chemistry between us."
After accepting CJ's proposal, Angela started planning her trip to Nigeria and bought a stunning blue dress for the wedding ceremony, which had been arranged for the following month.
"CJ had planned the whole day and had bought us both wedding rings. Sadly, none of my family could make it as it was such short notice. But I felt happy to have their blessings.
The six-hour plane journey felt like a lifetime. I was worried CJ might not like me in person. But the moment I saw him waiting for me, I knew I'd made the right decision. I gave him a hug and he kissed me.
We'd originally planned to wait until the wedding night to consummate our relationship but we couldn't keep our hands off each other. CJ was so loving and passionate.
The ceremony was so beautiful and CJ had organized it all perfectly. It was the happiest day of my life.
I felt so lucky, but it was bittersweet because I knew I had to go back to England. The two weeks I was there flew by."
Angela said she was shocked when her visa application for CJ was rejected and he was denied entry to the UK.
"The Visa was rejected because officials didn't think we had financial backing, as I was retired.
Over the following months, I tried again and again to appeal the decision. It broke my heart every time it was denied. He wasn't even allowed to visit me on a tourist visa. I'd waited so long for true love, and now I'd finally found it, it was being kept from me.
I know there are scam marriages and they get hold of older people like me. But they find out if you have money first. I told CJ from the beginning I haven't any money. But he told me, 'It's you I want'.
I know it goes on and that's why I was so upfront. I have helped CJ financially but he has always paid me back."
Since the marriage, Angela has visited her husband in Nigeria twice, once in March 2016 for three weeks and once in January 2017, for three weeks.
The couple's last hope is that he will be allowed to go to the UK next year on a student visa to study his Master's Degree program.
"Our only hope now is that CJ will be allowed to come next year on a student visa to study his Masters in computing. I'm hoping to go to Africa later this year to visit him and I'm counting down the days until I can see him again."
Is this really true love or a sharp guy just trying to use the marriage to get a green card to live in the United Kingdom? Only time will tell.
JOIN OUR PULSE COMMUNITY!
Recommended articles
The dollar is no more relevant in trade between India and Tanzania
Alongside becoming an apex investment destination in Africa, Tanzania is also a top food producer
The best ways to reach a woman's G-spot
Top 10 African countries with the lowest inflation rates in February 2023
Train crash: Bus driver begs for forgiveness after psychiatric, drug tests
Top 10 African cities with the highest population growth from 2022 to 2023
5 ranking PDP lawmakers who became Labour Party casualties
Top 10 African countries where workers earn the highest average salaries
Top 10 happiest countries in Africa in 2023