After threats of death, fashion designer slump, dies
A man who threatened another with death was almost lynched by an angry crowd after the man slumped and died few hours later.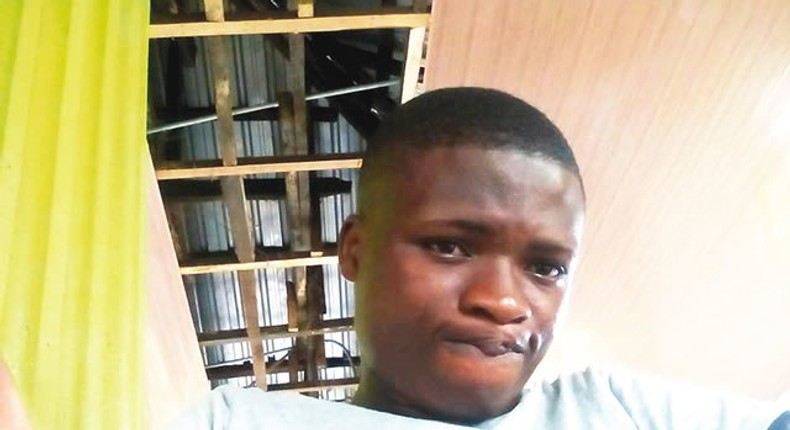 The death of a 22-year-old fashion designer,
It was gathered that the deceased slumped and died on Sunday, July 31, 2016, on Orobiyi Street, in the area, prompting youths in the community who heard that the suspect, Taofeek Sodiq, had earlier threatened him, mobilized and went after the suspect and were about setting him on fire before policemen from the Alagbado Division arrived and rescued him.
Eyewitnesses say the cause of the altercation was when Sodiq had sent his 10-year-old son on an errand with the sum of N500 but the boy was allegedly defrauded by a man who sat in the front of Shotunde's locked shop.
When the boy went back home and reported the incident to his father, Sodiq allegedly went to Shotunde and accused him of conniving with the fraudster to collect the money from his son and in the heat of the argument, Sodiq allegedly told the deceased:
"You will not live to open your shop tomorrow, if my money is not returned."
The residents of the area were thrown into shock when Shotunde slumped and died as predicted by Sodiq.
A resident who identified himself as Owolabi Daod, explained that Shotunde slumped and died within three hours of the threat by Sodiq:
"Around 10am on Sunday, a man sat in the front of Lukmon's shop. Another man, who lives in the community, sent his 10-year-old son on an errand with N500.
But the man in the front of Lukmon's shop called the boy and asked him to bring the N500 that he would double it for him. The boy foolishly gave him the money and the man absconded.
A resident, who saw the boy sitting in front of the shop, asked him what he was waiting for. It was at that point the boy knew he had been scammed.
Upon learning of the story, Sodiq came out with a friend and said if he didn't get his money back, Lukmon will not live to open his shop the next day, despite Lukmon's denial that he did not even know the man.
We thought it was all over but Lukmon was walking back to his shop when he suddenly collapsed. We rushed him to a private hospital where he was confirmed dead," Daod said.
Another resident said that the residents who gathered at the suspect's house and dragged him out and were said to have beaten him and were about lynching him when the matter was reported at the police station.
"The police prevented the jungle justice. A police team had to stay in the community for more than six hours."
JOIN OUR PULSE COMMUNITY!
Recommended articles
See the ambitious Sh1.4 trillion ($10 billion) project the president of Kenya is involved in
Tanzania to grant special status to diaspora inhabitants by the end of 2023
Europe is aiming to replace Chinese commercial connections with African ones
Rick Ross declares interest in Ayra Starr
Veteran Nollywood actor Adewale Adeyemo is dead
Naira marginally rises against dollar in 24 hours of Tinubu's presidency
'There was a point...I was seeing the stage upside down' - Hilda Baci
Beautiful Nubia, Tosin Ashafa, others pay tribute to OAU alumnus Abass Oyeyemi
Kenya secures $500 million commercial loan from global banks