Can you escape from a valley of snakes? This Iguana did [Video]
Faster than Tom Cruise, Jason Bourne, and James Bond. Combined.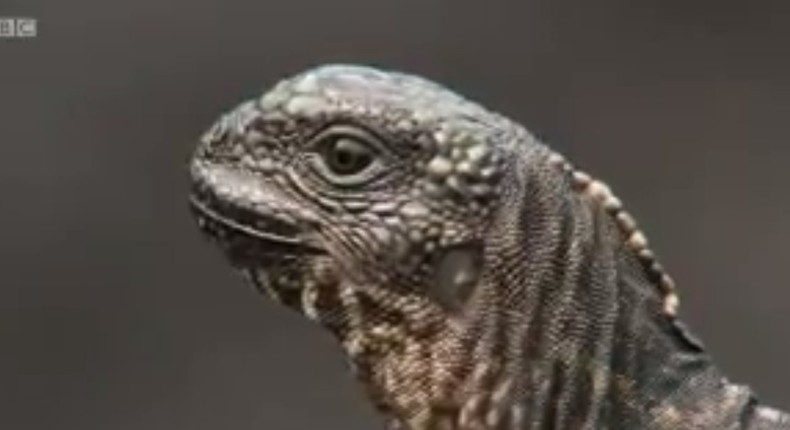 An Iguana walked through the Valley of the shadow of
Did you say your prayer for protection before you left the house? Let's say you don't pray, did you sharpen your survival instinct?
The Marine Iguana hatchling somehow found itself in a den of snakes.
By nature, we have only two instincts in times of danger, fight or flight. But how does a new born Iguana escape from over eight snakes?
This Iguana decided to standstill. Call it a mannequin challenge if you like. The reason it did this is because, while the snakes have bad eyesight, they can detect the slightest movement.
But just at the last moment when the snake was about to give the Iguana the kiss of death, it took off.
Forget Tom Cruise, or any super actor you know, none of them could catch this animal. But, just when it was about to escape, it got ambushed by three snakes, and the rolled it up and tried to squeeze it to death. All hope seemed to be lost.
Then at the last moment, it wriggled away and continued to run. At this point, we started playing Davido's "Dami Duro".
No, we're not calling Davido an Iguana. Moving on. This Iguana kept running, dodging their fangs the way they were dodging bullets in the Matrix.
And finally, it managed to escape. Many people believe this is probably the most gripping scene in documentary history.
We are inclined to agree. Watch the scene here.
JOIN OUR PULSE COMMUNITY!
Recommended articles
5 outfits for 5 days of work inspired by Regina Daniels
Cement price will hit ₦9k due to FG's plan to introduce concrete roads — Manufacturers
BREAKING: Supreme Court building engulfed in flames
Whitemoney's team responds to allegations that they sold his votes
Fireboy pays tribute to Mohbad at his Trace Live concert
Africa's food insecurity to be non-existent in the next 5 years - AfDB
Meet the 6 finalists on 'BBNaija All Stars'
How to make 'masa' or rice cakes, a Nigerian Hausa delicacy
Venita, Soma and Angel get evicted from Big Brother Naija All Stars