European country battles with fake news, where is the Nigerian solution?
France and Facebook are dealing with fake news during the election period as Nigeria hasn't found a model to deal with it.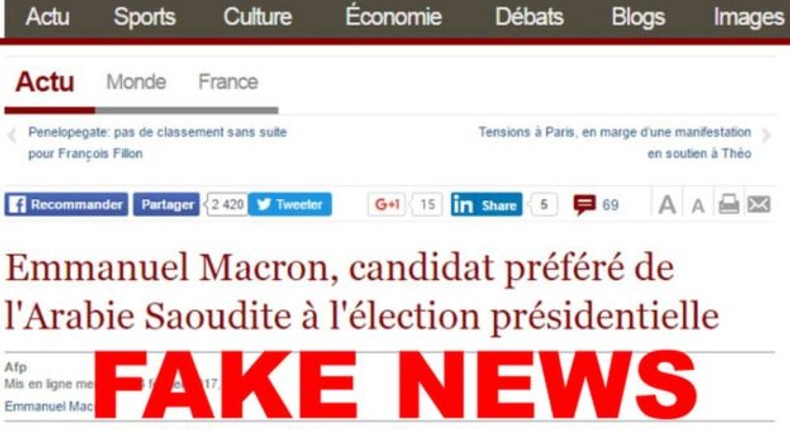 A recent survey has revealed that fake news is flooding the nation of France ahead of the upcoming elections.
Termed 'junk news' the percentage of fake news isn't as high as during the last presidential elections in America.
Published by Oxford University, the research found out that one-quarter of the news on the French elections shared on Twitter and Facebook. The research defined junk news as fake news expressing "ideologically extreme, hyper-partisan or conspiratorial" views.
Most of the fake news is focused on the leading presidential candidate Emmanuel Macron. The 39-year-old has shocked the country to emerge the leading candidate for the job of the first citizen.
The good news surprisingly is that French people are sharing more better quality stories than the Americans did during its Presidential election. "French voters are sharing better quality information than what many U.S. voters shared and almost as much quality news and information as German users share," said the Oxford Internet Institute on Friday, April 21, 2017. The report was made available a day before.
Facebook is helping to deal with the scourge of fake news during this period. The social media network has suspended 30,000 accounts suspected of spamming fake news.
In related news, the founder of Wikipedia, Jimmy Wales, is about to launch a crowd-funding campaign to star Wikitribune- an online publication dedicated to publishing news stories based on facts and not alternative facts.
Jimmy Wales aims to "bring the fact-based, fact-checking mentality we know from Wikipedia to news" according to what he told tech website Wired.
Initiatives like this would be welcome in Nigerian journalism. Nigeria has seen its fair share of fake stories, especially on politics. There hasn't still been a clear initiative to help to deal with the problem yet.
JOIN OUR PULSE COMMUNITY!
Recommended articles
Nigerian actor Hawwal Ogungbadero, 29 others set Guinness World Record for longest recording session
Tinubu clarifies his statement on subsidy as petrol price rises to ₦600 per litre
10 African countries with the lowest digital quality of life index
Top 10 richest mineral-producing countries in Africa
Fuel Subsidy: Why Tinubu had no other option [Editor's Opinion]
Veteran Nollywood actor Adewale Adeyemo is dead
Africa's richest woman Isabel Dos Santos finds herself deep in another financial scandal
'There was a point...I was seeing the stage upside down' - Hilda Baci
Beautiful Nubia, Tosin Ashafa, others pay tribute to OAU alumnus Abass Oyeyemi