Nigeria Army say soldiers caught torturing civilian are fake
The authorities of the Nigerian Army has said that the soldiers who tortured a civilian by making him swim in muddy water could be fake.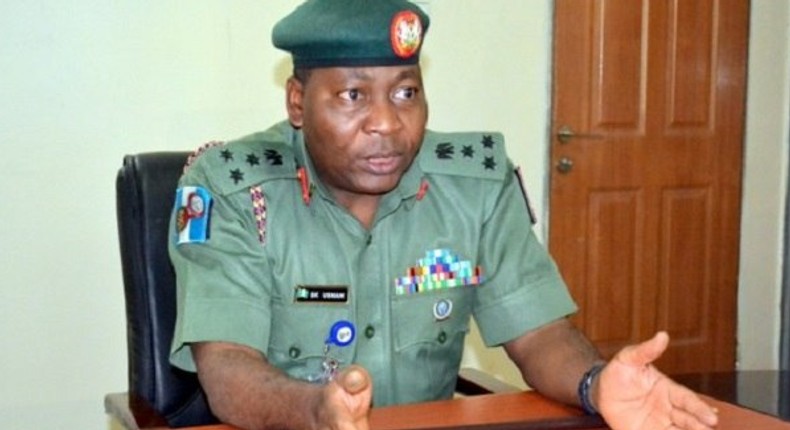 A few days after a disturbing video showing some
Though the location of the incident was not mentioned by the person who took the video nor the identity of the soldiers and their victim, it was very clear that the incident happened in a community in Nigeria.
However, the Director, Army Public Relations, Brig. Gen. Sani Usman, in an interview with Punch Newspaper, explained that the fact that the soldiers wore military camouflage and carried AK 47 assault rifles, they could be fake soldiers.
Brig. Gen. Usman also contended that the Army had yet to ascertain whether the incident happened in Nigeria or outside the country.
"It is unfortunate that you concluded that the culprits were soldiers. You should have said alleged soldiers in your write up.
The fact that somebody wore military camouflage or held an AK-47 rifle does not make him a soldier. We have a lot of fake soldiers and nobody can verify where and when the incident happened.
We do not know how this information got out because the first blog that picked it gave the impressing that it was based in London. However, the long and short of it is that we are investigating the incident."
JOIN OUR PULSE COMMUNITY!
Recommended articles
Lai Mohammed appointed managing partner of international lobbying firm
Masturbation may increase a male primate's chances of impregnating a female - Study
Tanzania could become the top investment destination for Australia
DRC and Angola set aside a 50-year oil block dispute to become joint holders
Sex is now a sport in Sweden, all you need to know about the competition
Peter Obi tenders more evidence in Presidential Election Tribunal
Kate Henshaw finally unveils daughter publicly
Portable Zazu announces the arrival of fifth child with Yoruba actress
Veteran Nollywood actor Adewale Adeyemo is dead