'I lure kids with fried yam, sweets' - kidnap suspect
The Abia state police command have apprehended a kidnap suspect as well as other accomplices.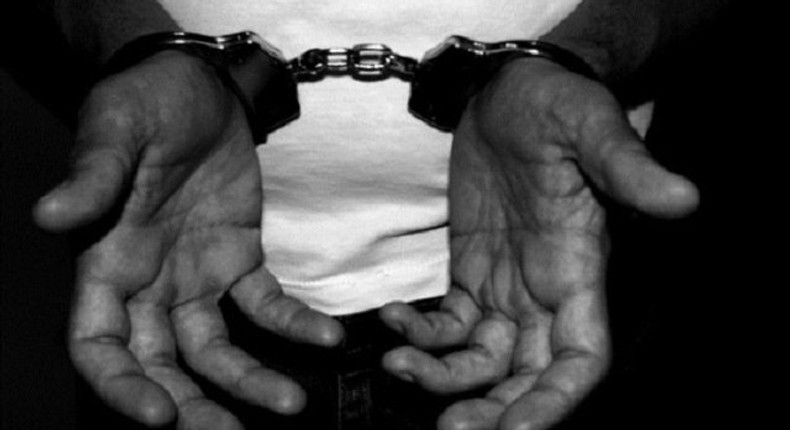 A kidnap suspect identified as
The suspect made the disclosure while being paraded by the Commissioner of Police in Abia State, Mr Adeleye Oyebade, at the police officers mess in Umuahia, the Abia State capital, Daily Post reports.
The suspect added that he gave the children to his friend whom he identified only as Uche, who in turn sold them to one Chioma Ohajimadu and Mrs Comfort Ogbonnaya who reside at No. 69, Ososu road, Aba.
"One evening, about two weeks ago, I went to eat at Oyigbo roundabout, Uche started calling me repeatedly to get the child he told me to bring. But I told him that I know the parents of the child I wanted to bring to him and I don't want to hurt them. However, he insisted that I should bring the child.
"After speaking with him, I asked him to come around and wait for me. Then I went to where the children normally gather to play around the area because the little boy, Marvellous Heart, normally comes to me each time I am around his mother's shop.
"When he saw me that evening, he ran to me and l bought sweets for him; from there, I carried him and met Uche, who was waiting for me at a distance. That was how we took the boy to Aba. He gave me N50,000 only and promised to pay me the balance later.
"But after some days, the woman that bought the boy started calling me to complain that she doesn't want the boy again, that we should bring another child for her. That was how Uche forced me to go and steal another child for the woman.
"The second time, I saw some children around a spot where they sell fried yam around Imo River and bought some fried yam for them. When I was leaving, I left with one of them."
Meanwhile, The father of the first child, Mr Shedrach Heart, narrating his ordeal, said he reported the incident to the police at Obehie when it was noticed that his child was missing and went to his church for prayers, where he was assured that his child would be brought back alive.
"Roland has been our family friend, any time he comes around to play Loto around my wife's shop, my child normally runs to him and the two of them will stay together until he leaves. On that fateful day, my boy ran to him and he carried him to buy something for him. From there, he took him away."
The woman who illegally adopted the kids, Chioma Ohajimadu, also confessed to the crime, explaining that she had done it because she found the normal process very expensive.
She added that she resorted to the illegal means with the help of a man who promised to help her to adopt one at a cheaper rate.
"I'm a widow with a son of about 17-years-old. But I needed another baby in my family. The Uche in question was my primary school student.
"When we met at Aba, he told me he works with the motherless baby's home and I informed him that I needed to adopt a baby and I have gone round, but the price they were giving me was exorbitant.
"He promised to help me out since he works with them. So, about two weeks ago, on the 18th of November, he called to inform me that he has got the baby for me. He brought the boy to my house with Roland.
"I spent one night with the baby and found out that he was too rough for my liking. So, I called him to come and take the baby and get another one that will be calm for me. But he said he can't take back the boy again, that he finished the registration of his adoption at the motherless baby's home.
"That was why I called a woman that works at another motherless baby's home and asked her if she knows of any woman that needs a child and she said yes and asked her to bring the woman to take the boy they brought for me because I don't want him again.
"She asked  me to bring the child and she then invited Comfort Ogbonnaya to take the boy, it was in the process of adopting the second baby that I was arrested by the police."
While parading the suspects, Oyebade said Egbe was earlier arrested and paraded for child trafficking on December 7, 2016, before operatives attached to the Special Anti-Robbery Squad at Obehie rescued four-year-old Heart stolen about two weeks ago.
He warned parents to monitor their children closely and to warn them against accepting gifts from strangers and people around them during the festivities.
JOIN OUR PULSE COMMUNITY!
Recommended articles
South Korea eyes one of Nigeria's precious minerals
List of African countries and how much of their salaries they spend on iPhones
4 highlights from Thursday's pool party on 'BBNaija All Stars'
Top 10 African countries with the highest food inflation rates
Despite $3 billion bailout, Ghana has essentially gone bankrupt
Ghana is looking to supply Nigeria with its electricity needs following power grid shutdown
Burna Boy's South Africa concert has been cancelled, here's why
Africa's food insecurity to be non-existent in the next 5 years - AfDB