Father brutalises 8-yr-old son, fractures leg, hand
A father is in trouble for brutalising his 8-year-old son, fracturing his leg and hand in the process.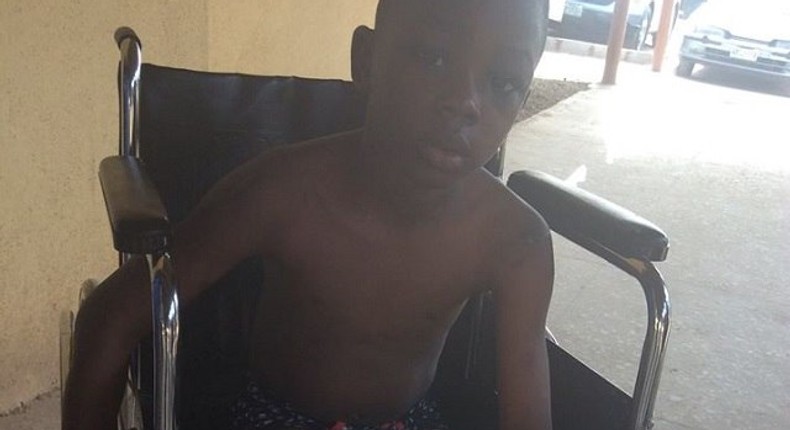 Young Chukwuma Okafor in the hospital
The young boy who is currently on admission at the Kubwa General Hospital in Abuja, the Federal Capital Territory, was taken to the hospital by his teachers after his wicked father drove him and dumped him in the school after breaking his bones with a pestle.
Young Chukwuma Okafor in pains
A Facebook user, IG Wala, posted the very ugly case of child abuse with this caption:
"WHO WILL SAVE LITTLE OKAFOR FROM HIS FATHER'S WICKEDNESS?
Eight years old Chukwuma Okafor, is presently on admission at the Kubwa General Hospital, after a brutal beating by his own father. This child was taken to hospital by a Nun who was said to have been contacted by his school teachers.
Yesterday morning, his own father drove him to school in a bad shape and dumped him. Little Okafor was in serious pain and could barely walk on his leg. The school teachers rushed him to the General Hospital in Kubwa. After undergoing series of X-ray tests, the result revealed he has fracture on his leg and hand as a result of beating with a strong object which the boy confirmed to be pestle.
Incidentally, , a reporter with VOA Hausa was in the hospital to check on his friend. He saw the boy's condition and encouraged that the matter should be reported to the police. The school reported the matter to the police in Kubwa and Mr. Okafor (his father) has been arrested for child abuse.
Chukwuma Okafor in the hospital
The school teachers confirmed that on several occasions, they made effort to intervene on the boy's situation but the father proved stubborn and even threatened them. The scars on the boy's head & back shows how long he has been maltreated by his own father.
THE FATHER IS JUSTIFYING HIS ACTIONS BY WAY OF CLAIMING TO BE A DISCIPLINARIAN AND HE SAID HIS ARREST BY THE POLICE IS AN EXAMPLE OF THE TYPE OF EMBARRASSMENTS THAT HIS CHILD KEEP BRINGING TO HIS FAMILY."
JOIN OUR PULSE COMMUNITY!
Recommended articles
Nigerian actor Hawwal Ogungbadero, 29 others set Guinness World Record for longest recording session
Tinubu clarifies his statement on subsidy as petrol price rises to ₦600 per litre
10 African countries with the lowest digital quality of life index
Top 10 richest mineral-producing countries in Africa
Fuel Subsidy: Why Tinubu had no other option [Editor's Opinion]
Veteran Nollywood actor Adewale Adeyemo is dead
Africa's richest woman Isabel Dos Santos finds herself deep in another financial scandal
'There was a point...I was seeing the stage upside down' - Hilda Baci
Beautiful Nubia, Tosin Ashafa, others pay tribute to OAU alumnus Abass Oyeyemi