Mobile policeman runs amok, kills colleague, two others at a bank (Graphic Photo)
It was a bloody day after a police officer turned his gun on his colleague and other innocent civilians and shot them to death in Kaduna.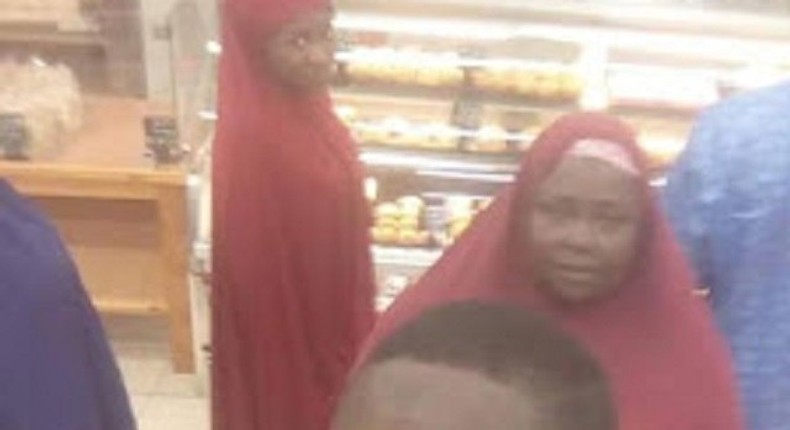 It was a bloody day after a mobile police officer identified as
News Agency of Nigeria (NAN), reports that apart from Matthew, Hamisu also killed a young student of the Umaru Musa Yar'Adua University, who was at the bank to withdraw money from an ATM and injured other people in the shooting spree.
It was gathered that the killer was thereafter, shot in the legs by other police officers attached to the bank before the angry mob descended on him and lynched him to death.
The incident, according to eyewitnesses, occurred when the two officers got into an argument which became heated leading to Hamisu shooting Matthew.
But another version of the incident had it that the quarrel between the two officers ensued following a discovery that the sergeant had been short-changing the corporal.
An eyewitness who identified himself as Prince Sam, Hamisu who was attached to MOPOL 47, Zaria, went wild and gunned down his colleague and two bank customers before he was killed by other policemen.
"I was there when it all went down but I was afraid to take pictures of the incident with my phone. I woke up early that morning, made my way to the bank on Manchester Road, precisely where GT Bank was situated.
I got there but there was no money at the ATM. In fact, I went round the whole of Zaria but none of the ATMs was loaded with money.
I got to Diamond Bank roundabout and made my way to Zenith Bank. I got there but the crowd there was something else; so, as I was about leaving, two of the Mopols (anti-riot policemen) guarding the bank were arguing.
One of them asked the other to hand over his rifle to him or he would shoot him. Like a joke, the guy cocked his rifle. His name was Aliyu Hamisu while the other one was Joshua Matthew.
Both of them were sergeants attached to Mopol 47 Squadron, Zaria. So, Joshua handed over his rifle to Aliyu knowing that Aliyu had already cocked his rifle and anything could happen, while the rest of the Mopols were just looking in amazement.
The next thing I heard was 'lie down.' At this moment, I knew something terrible was about to happen. So, I left the premises of the bank, started my vehicle and drove off immediately.
It was not up to 30 seconds when I heard a gunshot, and people started running for their dear lives. I parked my car to know what was going on, then I looked down towards Zenith Bank and saw two people lying dead on the ground, including Joshua.
The next thing I saw, was an Okada man dropped dead from his Okada, at that period I knew the war has started, as I was trying to get the clear picture of what really transpired to that ugly event, I saw the Aliyu with two AK47s shooting rapidly chanting Allahu akbar.
I quickly hid with others in one of the shops at PZ bus stop. Immediately news got to Zaria Area Command who mobilized men to the scene but before they could get there, one of the Mopols had already shot Aliyu in both legs.
He couldn't get up again as the rifles fell off his hands and I saw mobs gathered and started hitting him with so many objects they could lay their hands on.
Police later dispersed the crowd, took Aliyu to a hospital together with Joshua who was already dead before getting to the hospital and three other persons who they later confirmed dead on arrival due to multiple gunshots."
The Kaduna State Police Public Relations Officer (PPRO), DSP Aliyu Usman who confirmed the incident, said an investigative panel has been put in place to determine the cause of the incident.
JOIN OUR PULSE COMMUNITY!
Recommended articles
3 food items legal in Nigeria but banned abroad
Top 10 African countries with the highest crime rates
5 Nollywood historical films you should see on October 1
6 key figures who paved the way for Nigeria's Independence in 1960
Top 10 African countries with the cheapest data prices from June to September
Venita, Soma and Angel get evicted from Big Brother Naija All Stars
Here's why guinea fowls make great security guards
How Editi Effiong delivered a global hit with 'The Black Book' [Exclusive]
The World Bank has warned that Nigeria may bear some of the brunt of the Niger coup